ABCD, Master Candle and Other Successful Forex Patterns
Reading time: 6 minutes
Forex patterns are the core of successful Price Action trading. The key principle of any Forex trading is to keep trading simple. These patterns make use of peculiar market movement and highlight the chart with different price structures which traders use to trade with. There are multiple trading methods that make use of these patterns in price to find entries, targets and stop levels. We will deal with simple and very effective Forex patterns that have been proven to work throughout Forex trading history.
The ABCD Pattern
This is one of the best performing day trading patterns in the world of Forex. The ABCD Pattern was designed as a day / swing trading strategy. It can be identified on any timeframe and can be seen in the formation of other advanced patterns. It is the basic and simplest Harmonic pattern, but nonetheless a very effective one.
Charting the ABCD pattern
Each turning point (A, B, C, and D) represents a significant high or significant low on a price chart. These points define three consecutive price swings, or trends, which make up each of the three pattern "legs." These are referred to as the AB leg, the BC leg, and the CD leg.
AB and CD are know as legs, while BC is called retracement (correction).
We need to use a Fibonacci tool on leg AB (from left to right) and then we will get BC retracement level. Additionally one of the best performing ABCD patterns is AB=CD, where the length of the AB line should be equal to the length of the CD line. Retracement followed by an extension suggests a higher probability for another retracement to occur.
Optionally, the time it takes for the price to go from A to B should be equal to the time it takes for the price to move from C to D
The Three Drives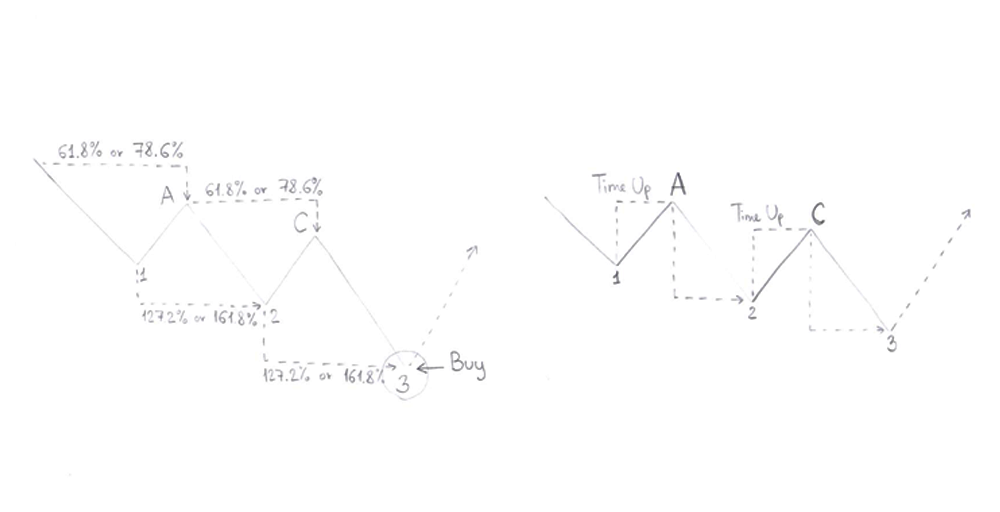 The Three Drives pattern is a 6-point reversal pattern characterised by a series of higher highs or lower lows that complete at a 127% or 161.8% Fibonacci extension. It signals that the market is exhausted and a reversal is likely to happen. This pattern is a strong day trading with short-term price pattern but it is also used as a swing trading pattern.
The three-drive pattern is a lot like the ABCD pattern except that it has three legs (now known as drives) and two corrections or retracements. This pattern is known to be one of the foundations for Elliot Waves.

Charting the Three Drives Pattern
Point A should be the 61.8% retracement of drive 1; optionally 38.2-88.6%
Point B should be the 0.618 retracement of drive 2; optionally 38.2 - 88.6%
Drive 2 should be the 1.272 extension of correction A
Drive 3 should be the 1.272 extension of correction B
Optionally, the time to complete retracements A and B should be equal
Valid extension can also be close to 1.272 and higher than 1.272.
The Five 0
One of the more successful Forex patterns that might precede a big market movement is a Five 0 or 5-0 pattern. The 5-0 is both a day trading and a swing trading chart pattern that possesses only two numbers – the 50% retracement of the BC leg and the Reciprocal AB=CD. The pattern incorporates 5 points within the structure (X, A, B, C, D), and the starting point of the structure (0) can be the beginning of any extended price move.
Charting the Five 0 Pattern
AB movement should be 1.13 to 1.618 retracement of XA
BC movement should be 1.618 to 2.24 retracement of an AB
CD movement should be 0.5 retracement of BC
These patterns are profitable both in Forex and stock trading. For a better understanding of how to chart the pattern and what you should pay attention to as a trader while trading these chart patterns, please watch the video below which also explains the rules for identifying these price patterns.


The Master Candle
The Master candle concept is a candlestick charting breakout concept derived from a classic Price Action school. The primary advantage of master candle is that it is completely bias free and it allows breakouts without paying attention to the main trend.
Charting the Master Candle
Define MC
1st 2nd 3rd 4th candles within the MC are called Setup candles
1st 2nd 3rd candle after the 4th setup candle need to break MC high/low for the breakout to be valid
So those are 5th 6th or 7th candle after MC candle
Valid Master candle has 30-150 pips range depending of the pair traded
Buy/Sell entry is placed 3 pips + spread above/below MC high/low.
The Master candle is solely traded on H1 time frame and is very suitable for opening range breakout and intraday breakouts. Make sure to practise on demo trades first, before you implement new strategies into your trading system.
The Importance of Trading Patterns
By identifying and trading these classic chart patterns, you should see more opportunities in almost any market and timeframe. The highest-probability trade setups happen at the completion of the pattern at the confluence with other important price action tools such as pivot points, historical levels of support and resistance.
By using ABCD and other patterns, traders could determine risk vs. reward in an easier way prior to placing a trade. These patterns are also the foundation of Nenad's Price Action Trading School. All above mentioned patterns are used on Wednesday's Live Trading Sessions with Nenad so make sure you sign up for Live trading webinars.