The United States Federal Reserve, a.k.a the Fed, approved a widely-anticipated interest rate cut on Wednesday 18 September. The quarter-point interest rate lifted the US dollar briefly but the divide among Federal Reserve members on what to do next has left the US dollar languishing. According to some however, the world's biggest currency may not stay there for long as the JP Morgan Global FX Volatility Index continues to warn of an imminent explosion in the US dollar.
In this article, we discuss the rationale behind the Fed's decision to cut interest rates, what could like ahead for the USD and the possible trading opportunities around - what could be - a historic turning point for the currency. Let's get started!

Why did the Fed cut interest rates?
After two days worth of policy-meetings, the Fed decided it would take its benchmark overnight lending rate (or interest rate) to 2% from 2.25%, initially sending the US dollar higher before sinking back down in the next trading session. This was only two months after the Fed went ahead with its first interest rate cut in 11 years.
Federal Reserve Chairman Jerome Powell said "We took this step to help keep the US economy strong in the face of some notable developments and to provide insurance against ongoing risks". This is in reference to the slowdown in global growth and the ongoing US-China trade war.
US President Donald Trump expressed his displeasure via Twitter stating that "Jay Powell and the Federal Reserve Fail Again". The President has been calling for the Fed to cut interest rates more aggressively to make them more competitive on the global stage and - according to some analysts - to help Trump in his failing trade war with China.
What's next for the USD?
Currently, Federal Reserve policymakers are mixed on the next approach. This is due to the fact that the global economy is in a very fragile state with uncertainty regarding global growth and the US-China trade war. Typically currency traders move money to where they can receive a higher interest rate on their capital or at least believe a central bank is likely to increase rates at some point in the future. Currently, nearly all major central banks are cutting rates in attempt to stimulate the global economy.
There are some indications that something will eventually 'break' in the future. According to JP Morgan's Global FX Volatility Index an explosion in the US dollar is imminent. Currently, the index is sitting at five year lows signalling that the volatility of the currency is quite low. However, over the past 25 years, there have only been three troughs in the index and each time the US dollar exploded 10%. The bank notes the index is now making a new fourth trough.
With this type of high level, fundamental analysis, it can still be tricky to find trading opportunities on something that could happen but is not happening right now. That's why many traders look towards technical analysis as well. Studying the price chart of a security helps to understand the state of the market now, as well as provide clues on future direction. When this lines up with the bigger picture that's typically when stronger trends prevail.
Let's take a look at a chart of the US dollar index.
How to Trade the US Dollar Index (USDX)
The US dollar index is an index of the value of the US dollar against a basket of different currencies such as the Euro, British pound, Swedish Krona and more. With Admiral Markets you can speculate on the price direction of this index by using a CFD (Contracts for Difference). One of the benefits of this product is the fact you can go long or short on the market.
Many traders and analysts use the US dollar index CFD to identify a directional bias on the US dollar overall. This bias is then used to trade other US dollar currency pairs such as the EUR.USD, GBP.USD, USD.CAD and so on. However, traders can also trade the US dollar index CFD.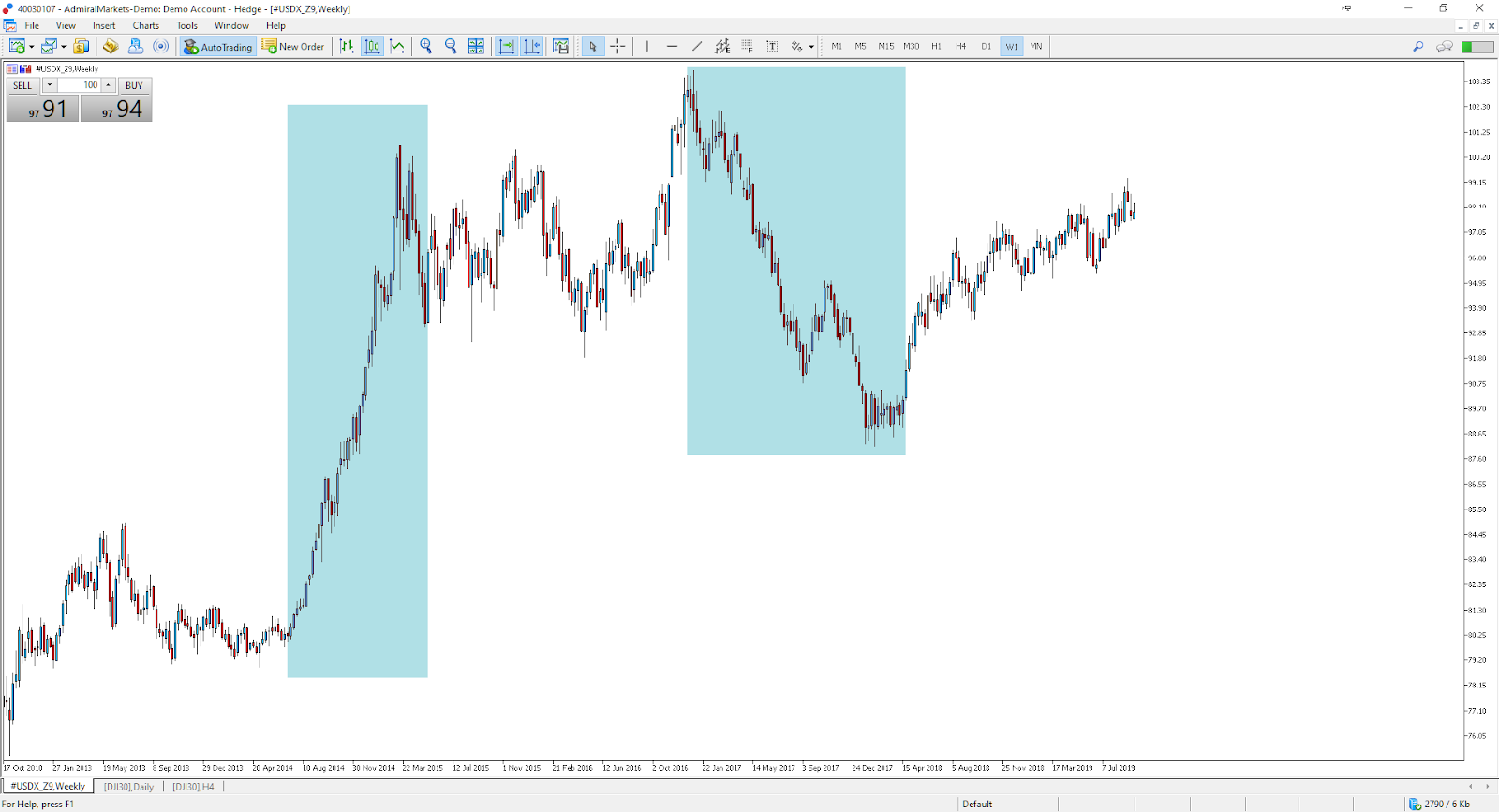 Source: Admiral Markets MetaTrader 5, USDX, Weekly - Data range: from 17 Oct 2010 to 19 Sept 2019, accessed on 19 Sept 2019 at 4:11 pm BST. - Please note: Past performance is not a reliable indicator of future results.
In the above weekly price chart of the US dollar index CFD, it is clear to see the long term trends in the US dollar from July 2014 to March 2015 and from January 2017 to February 2018, as highlighted in the blue boxes. While the US dollar has been rising higher since 2018 it has done so in a very narrow trading range, as shown below.
Source: Admiral Markets MetaTrader 5, USDX, Weekly - Data range: from 27 March 2016 to 19 Sept 2019, accessed on 19 Sept 2019 at 6:11 pm BST. - Please note: Past performance is not a reliable indicator of future results.
In the above weekly price chart of the US dollar index CFD, the trend-based range, otherwise known as a channel, is evident between the two diagonal red lines. Furthermore, it is clear to see price trading in between the weekly Bollinger Bands.
Bollinger Bands measure volatility. When they are expanding it means the market is in a strong trend. When they are contracting, or narrowing - as they are in the chart above - it means the market is quiet and range based.
Traders will often use these diagonal channel lines and the Bollinger Band lines as levels of support and resistance to trade from, often using price action trading strategies for confirmation of a turning point.
As the price of the US dollar index CFD has most recently rejected the upper channel line and upper Bollinger Band line, sellers have remained in control and could stay in control until price trades to the lower channel line or lower Bollinger Band line. In this case, it could help to lift the likes of EUR.USD, or drop currency pairs such as USD.CAD. With a possible explosion in the US dollar imminent - up or down - according to one index, how will you be trading it?
Having the ability to test your trading ideas and theories can be highly beneficial in developing long-term skills for trading. Click on the banner below to open a FREE demo trading account!

INFORMATION ABOUT ANALYTICAL MATERIALS:
The given data provides additional information regarding all analysis, estimates, prognosis, forecasts, market reviews, weekly outlooks or other similar assessments or information (hereinafter "Analysis") published on the website of Admiral Markets. Before making any investment decisions please pay close attention to the following:
1.This is a marketing communication. The content is published for informative purposes only and is in no way to be construed as investment advice or recommendation. It has not been prepared in accordance with legal requirements designed to promote the independence of investment research, and that it is not subject to any prohibition on dealing ahead of the dissemination of investment research.
2.Any investment decision is made by each client alone whereas Admiral Markets AS (Admiral Markets) shall not be responsible for any loss or damage arising from any such decision, whether or not based on the content.
3.With view to protecting the interests of our clients and the objectivity of the Analysis, Admiral Markets has established relevant internal procedures for prevention and management of conflicts of interest.
4.The Analysis is prepared by an independent analyst Jitan Solanki, Freelance Contributor (hereinafter "Author") based on personal estimations.
5.Whilst every reasonable effort is taken to ensure that all sources of the content are reliable and that all information is presented, as much as possible, in an understandable, timely, precise and complete manner, Admiral Markets does not guarantee the accuracy or completeness of any information contained within the Analysis.
6.Any kind of past or modeled performance of financial instruments indicated within the content should not be construed as an express or implied promise, guarantee or implication by Admiral Markets for any future performance. The value of the financial instrument may both increase and decrease and the preservation of the asset value is not guaranteed.
7.Leveraged products (including contracts for difference) are speculative in nature and may result in losses or profit. Before you start trading, please ensure that you fully understand therisks involved.