If you've been avoiding investing in shares, November might be the best time to rethink that decision.
October 2018 was a challenging month for the US stock market, with the Dow Jones Industrial Average falling by 831 points (the third largest one-day drop in history) and the SP500 falling by 4.85 in a single day.
However, November has historically been the start of a market upturn, with the November-through-April period delivering the majority of the stock market's gains.
6 Months that Could Double Investment Returns
From November to April, historical stock market returns are up to double the returns in the May to October period, and this trend is consistent around the world.
Just consider historical returns for the SP500, the DAX and the Nikkei.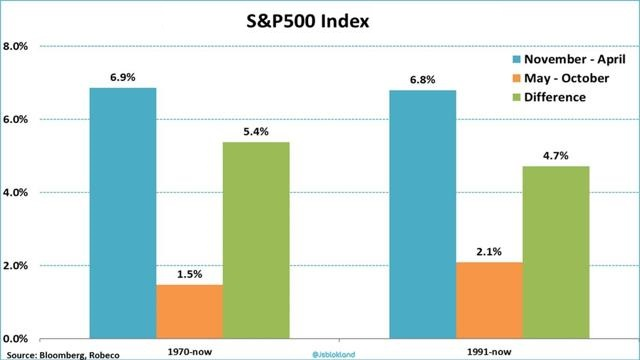 Source: Trading and Investment, Bloomberg, Robeco


Source: Trading and Investment, Bloomberg, Robeco
Source: Trading and Investment, Bloomberg, Robeco
When it comes to how this might affect your portfolio, a $10,000 investment in the Dow Jones Industrial Average that was made exclusively within the May-October period between 1950 and today would have gained $1,031. By contrast, investing exclusively during the November-April period would have generated profits totaling $1,008,721.
What Drives Stock Prices from November to April?
There are a number of reasons why November has traditionally been the start of an upswing in share prices, including:
Mutual fund 'window dressing': This a strategy portfolio managers use to improve the appearance of their fund's performance before third-quarter statements are sent to investors. With many funds selling poorly performing shares and purchasing better performing shares instead, the value of the top assets in the market rises.
Pensions and retirement money: At the beginning of each year, pension funds also add to their holdings, which means an influx of money enters the market. In the US, investors also add funds to their retirement accounts before the April 15 tax deadline.
Year-end bonuses: Many companies also pay year-end bonuses, which means individuals have more money available. Some will use this for investing.
Ultimately, the November to April period is one where a number of different parties are investing in the stock market. These investments push up the prices of individual shares, which then contributes to the market rising as a whole.
Why Should Investors Care?
The S&P 500 provides a average 9.8% historical return, however, this doesn't equate to a consistent return of 9.8%, as any investor will have to ride out the highs and the lows.
Investing during the time of year when returns are historically higher than average is a potential strategy investors can use to beat the market, while focusing on other instruments during the low period. As we come to the middle of October, investors still have several months to take advantage of this trend, which they can do via Invest.MT5, which allows traders to invest in stocks and ETFs from within their Trader's Room account.
Finally, remember that when you are trading on market highs and lows, it is important to exercise risk management within your strategy, which helps you to effectively manage the risks, and minimise them.
Invest with Admiral Markets
So if you're interested in investing and trading stocks and ETF's, whether with your own money or with a demo account, you can click the banner below to open an account, and start your trading journey today!
This material does not contain and should not be construed as containing investment advice, investment recommendations, an offer of or solicitation for any transactions in financial instruments. Please note that such trading analysis is not a reliable indicator for any current or future performance, as circumstances may change over time. Before making any investment decisions, you should seek advice from independent financial advisors to ensure you understand the risks.