The German economy continues to show positive data
June 25, 2021 15:30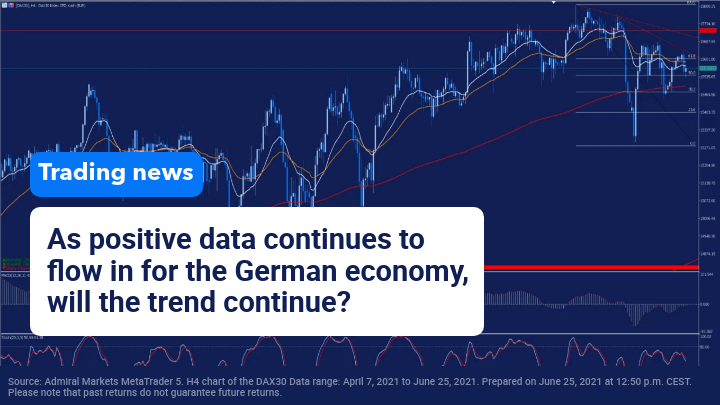 During both yesterday's and today's session, we discovered different macroeconomic data related to the German economy, each of which has been very positive in terms of present and future expectations. Not only does it represent better data than that of the previous month, but it also exceeds market expectations.
On Thursday, we learned of the data from the German IFO regarding business expectations, the current situation and the business confidence index. Specifically, we were able to find the following data:
Business expectations reached 104 points after rising 1.1 points with respect to the last month, thus surpassing market expectations that stood at 103.9 points. This is a sub-index of the German Ifo business index that measures business expectations in Germany for the next six months.
The current situation index in Germany was set at 99.6 points against the 97.8 points expected, so we can see that the current business conditions in Germany are very positive according to the respondents.
For its part, the IFO business confidence index is a survey that is carried out approximately 7000 companies and also exceeded market expectations after scoring a rise of 2.6 points with respect to the previous month reaching the figure of 101.8 points, compared to the 100.6 points expected.
In today's session on Friday, we have also known about the GfK index of German consumer climate, which measures the level of consumer confidence in economic activity. As it measures the willingness of consumers to spend their money, an increase in this indicator allows for favorable economic expectations. Today's data has not only been better than the previous data, but it has also been better than expected by the market consensus, standing at -0.3 versus the -4 expected.
Despite such positive macro data, in today's session the DAX30 is trading almost flat with a slight decline of 0.10% at the moment, although in yesterday's session it managed to finish with a rise of 0.86%.
Technically speaking, if we look at the H4 chart in the last few sessions, we can see how the DAX30, after marking historical highs on June 14, performed a consolidation that led it to make a bearish average crossing in H4 and to temporarily lose its average of 200 in the red, although it finally managed to bounce higher.
Currently, the DAX30 has two major resistance levels represented by short-term downtrend lines in the red. The break of these levels could open the door to a new upward momentum in search of its all-time highs. Conversely, if the price loses its average of 200, we could find a further correction to the weekly lows.
Source: Admiral Markets MetaTrader 5. H4 chart of the DAX30 Data range: April 7, 2021 to June 25, 2021. Prepared on June 25, 2021 at 12:50 p.m. CEST. Please note that past returns do not guarantee future returns.
Evolution in the last 5 years:
2020: 3,6%
2019: 25,48%
2018: -18,26%
2017: 12,51%
2016: 6,87%
With the Admirals Trade.MT5 account, you can trade Contracts for Differences (CFDs) of DAX30, IBEX35, SP500 and more than 3000 stocks! CFDs allow traders to try to profit from the bull and bear markets, as well as the use of leverage. Click on the following banner to open an account today:

INFORMATION ABOUT ANALYTICAL MATERIALS:
The given data provides additional information regarding all analysis, estimates, prognosis, forecasts, market reviews, weekly outlooks or other similar assessments or information (hereinafter "Analysis") published on the websites of Admiral Markets investment firms operating under the Admiral Markets trademark (hereinafter "Admiral Markets") Before making any investment decisions please pay close attention to the following:
This is a marketing communication. The content is published for informative purposes only and is in no way to be construed as investment advice or recommendation. It has not been prepared in accordance with legal requirements designed to promote the independence of investment research, and that it is not subject to any prohibition on dealing ahead of the dissemination of investment research.
Any investment decision is made by each client alone whereas Admiral Markets shall not be responsible for any loss or damage arising from any such decision, whether or not based on the content.
With view to protecting the interests of our clients and the objectivity of the Analysis, Admiral Markets has established relevant internal procedures for prevention and management of conflicts of interest.
The Analysis is prepared by an independent analyst, Roberto Rojas (analyst), (hereinafter "Author") based on their personal estimations.
Whilst every reasonable effort is taken to ensure that all sources of the content are reliable and that all information is presented, as much as possible, in an understandable, timely, precise and complete manner, Admiral Markets does not guarantee the accuracy or completeness of any information contained within the Analysis.
Any kind of past or modeled performance of financial instruments indicated within the content should not be construed as an express or implied promise, guarantee or implication by Admiral Markets for any future performance. The value of the financial instrument may both increase and decrease and the preservation of the asset value is not guaranteed.
Leveraged products (including contracts for difference) are speculative in nature and may result in losses or profit. Before you start trading, please ensure that you fully understand the risks involved.