Source: MT4 Supreme Edition
Dear Traders,
The Italian referendum has been intensively analysed in our Italian constitutional referendum 2016.
… a wide range of areas are reviewed, such as the expected economic performance, the potential political storm, and the investment sentiment.
Today's article will translate this analysis into a concrete trading strategy that will be used as our own blueprint when tackling the markets.
The first part will explain a news event system that can be traded on lower time frames, whereas the second part will discuss the various methods of addressing volatility and risk.

What trading strategy to use during the Italian referendum 2016?
As with every volatile release, traders need to focus on lower time frames because news can affect markets strongly. The markets can be impacted before, during and after the release with varying intensity, which all depends on the liquidity interaction with order flow. For instance, due to the significant movement and behaviour of the price during the 2001 and 2008 crises, there were plenty of opportunities to make money trading during the news event because of an increased level of volatility.
The Italian referendum 2016, which has already been covered on our event page, is another world event scheduled for this year. Earlier examples of such large events were the Brexit vote in the UK and the Presidential elections in the US. In today's article we present you a trading strategy which you can use during such major events.Trading tools like MetaTrader 4 Supreme Edition can help you understand and react better to market changes. No matter what the outcome of the Italian referendum, appealing trading opportunities could become available.
How to set up MetaTrader 4 Supreme Edition
The first step is to download MT4 Supreme Edition and install it on your platform.
The second step is to create a Trader's Room account and activate Volatility Protection Settings (VPS). The huge benefits of having VPS installed are described in a separate paragraph. It can be the saviour of your account.
The third step is to install worldevent.tpl on your MT4 and place it on your charts.
After completing those three steps, your screen should look similar to this:
This means that the template has been installed correctly and you have a proper metatrader setup for major events and mt4 news.
Italexit trading strategy
As with the Brexit and US elections, trading during the Italian referendum, and possible Italexit, requires a specific strategy and mindset, as the sentiment may change with order flows.
Check the economic calendar for the fundamental news and world events that you want to trade.
After you know the news/events that you're going to trade, all you need to check is:

1. Changes
2. Time
3. Impact

Each of these three are important. Before the news hits you are advised to monitor the price. Follow these steps for chart setup:
Open a four hour time frame chart
Check the High & Low of the current candle and mark it down
Check if the price is five or six pips different from the current (now moment) High & Low
Place Sell stop two pips below Low and Buy stop two pips above High
Stop Loss for Sell stop should be five pips above high
Stop loss for Buy stop stop loss should be five pips below low
If trade is initiated, zoom in to a 15m chart and follow the price
Take profit should be Admiral Pivot point or 30-50 pips
Respect your money management
Once we determine the set up candle we place Buy and Sell stops.
Once the entry has been triggered, we zoom in to a 15 min timeframe to effectively manage the trade, as shown in our Weekly FX Recap.
Source: EURAUD charts
Volatility protection methods
Traders need to be prepared to face periods of high market volatility when important political, economic or financial events take place.
Why?
Major events such as the Brexit referendum vote, or the US Presidential elections have the potential to create a paradigm shift in the way traders view and analyse the world.
The uncertainty surrounding whether the world makes a fundamental shift or stays the same is one of the main reasons that market volatility exists during key events.
Therefore, it is critical that traders take several steps to be properly prepared, such as:
Preparing a trading strategy and trading plan
Implementing a risk management plan, which should explain for instance aspects
Utilising proper tools
Utilising robust software.
The first vital step is preparing a trading strategy and trading plan.
Our trading plan has already been explained in full detail above...
… but a sturdy strategy and firm plan are not the only methods that traders can apply.
The second step is to implement a risk management plan, which should explain for instance aspects such as:
Where are stop losses placed?
How much risk is taken per trade?
How much risk is taken per day and per week?
How many positions are open at once?
The third step is to utilise the proper tools.
Luckily, traders can benefit from the custom designed software made by Admiral Markets.
The Volatility Protection Settings (VPS) available in the Trader's Room offers a wide and more sophisticated range of trading orders and settings.
Volatility is a measure of speed and magnitude of price change, which can witness unpredictable movements during events and economic data releases.
The key features of Volatility Protection Settings (VPS) help traders in various ways, such as:
avoiding order activation due to spread widening when there's no actual movement in the market
getting filled on larger orders by enabling partial fills
...and many more...
For instance, one of the options that could help during the Italian referendum e is a cancellation of pending orders on price gaps.
Gaps do not appear in the Forex market as much as in stocks, but...
Quick price movements could occur during periods of high volatility.
Generally speaking, it can't hurt to avoid losses if entry and stop loss are both triggered on the same tick.
There were in fact several gaps visible on the GBP/USD chart and many other currency pairs during the Brexit vote, which took place on 23 June 2016 and asked British citizens whether the UK should remain or leave the European Union.
Major political events, like the Brexit referendum earlier this year and the upcoming Italian referendum, are able to create quick price movements and even gaps, as the chart below shows on the GBP/USD pair.
This feature is called "cancellation of pending order on price gaps".
In our opinion, another useful tool for the upcoming event is the "execution of stop and markets orders as limit order with predefined maximum slippage."
Traders can predefine the maximum acceptable slippage for a stop or market order.If an order exceeds that level (of slippage) then the order is changed into a limit order.
Simple but useful tools for traders in tackling market volatility.
Remember that market volatility may not only affect price but also the spread. This tool gives the trader more control over how they engage with their trading plan and the financial markets.
Two examples are shown in the chart below:
A market short order that was changed into a limit order which was filled;
A market short order that was changed into a limit order which is pending.
The fourth step is to utilise robust software.
Admiral Markets has developed custom made software, such as the MT4 Supreme Edition and MT4 Webtrader.
There are multiple advantages to using these platforms…
… in fact, traders will be able to discover over 100 extra features.
The MT4 Webtrader is especially powerful in these cases if you:
Are travelling and want to access your trading platform online, with functionalities superior to mobile devices via a web browser, you can also receive the latest market sentiment and referendum-related news and analysis on our Italian referendum event page
Want to reach the MT4 platform without opening the platform itself.
However, the MT4 Supreme Edition has dozens of advantages if you do have the opportunity to open up your MT4 platform.In our view, one of the best features to use throughout news events is the "Mini-Terminal". provides us with multiple options to enter the market and manage risk in a simple fashion - see the image below: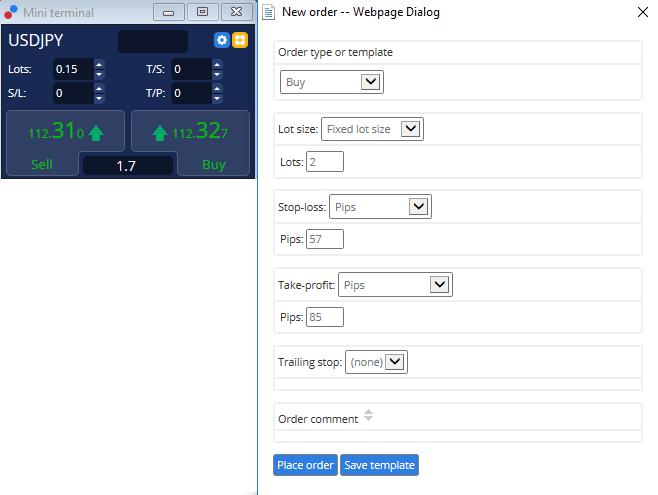 The second major benefit is a feature called "Alarm Manager".This tool is very handy if you do not have unlimited time to monitor the charts because of other tasks and duties. The Alarm Manager automates this task for you by giving you a heads up when a predefined event occurs, such as price movements, news alarms, equity account changes and much more.
Monitoring the the charts can be a tiresome watch, but your trading life is made easier with custom designed alarms tailored to your view on trading.
Another tool we find especially useful during volatile events is the "Correlation Matrix".
This tool shows how currency pairs are moving in relationship to one another:
Are they moving strongly in the same or opposite direction? (Red)
Are they moving slightly in the same or opposite direction? (Orange)
Is there perhaps slight (blue) or little (green) correlation?
There are many useful tools, such as the "Candle Countdown", "Spread Indicator" and "Mini Chart", plus dozens of other tools and indicators that come with the MetaTrader 4 Supreme Edition package.
The "Mini Charts" allow for quick multiple time frame analysis, by adding a smaller window with a different time frame…
For instance, with this weekly chart we added a smaller window that shows what price action looks like on a daily chart.
The same can be completed for any other chart combination, such as:
Three and 10 minute charts (and many more options)
Two, six, eight and 12 hour charts (and many more options)
Tick bars charts
Tick lines charts
Range bars charts
Renko bars charts
Kagi charts
Point & figure charts
World stocks before and after Italian referendum 2016 should be very volatile.
Be sure to see the "Impact of the Italian Referendum on Forex and Financial Markets" webinar live on Thursday for full details regarding the Italian referendum and its expected impact on politics, the economy, and the Forex and financial markets.
Cheers and safe trading,
Nenad and Chris