EUR/USD
4 hour
The EUR/USD uptrend is ready to continue higher now that price has broken above the resistance trend line (dotted red) and 1.15 round level. The bullish breakout confirms the continuation of the wave 3 (green).
1 hour
The EUR/USD is most likely building a wave 3 (orange) momentum. Within the 3rd wave price seems to be extending the bullish impulse via 5 waves (purple) within the 5th wave (grey). A small retracement could occur now or later as part of the wave 4 (purple) and the Fibonacci levels of wave 4 vs 3 could act as potential support for a new bounce towards the Fibonacci targets of wave 3 vs 1.
USD/JPY
4 hour
The USD/JPY continuation of the bearish momentum is increasing the chance of a bearish reversal and the completion of a wave X (blue) at the top.
1 hour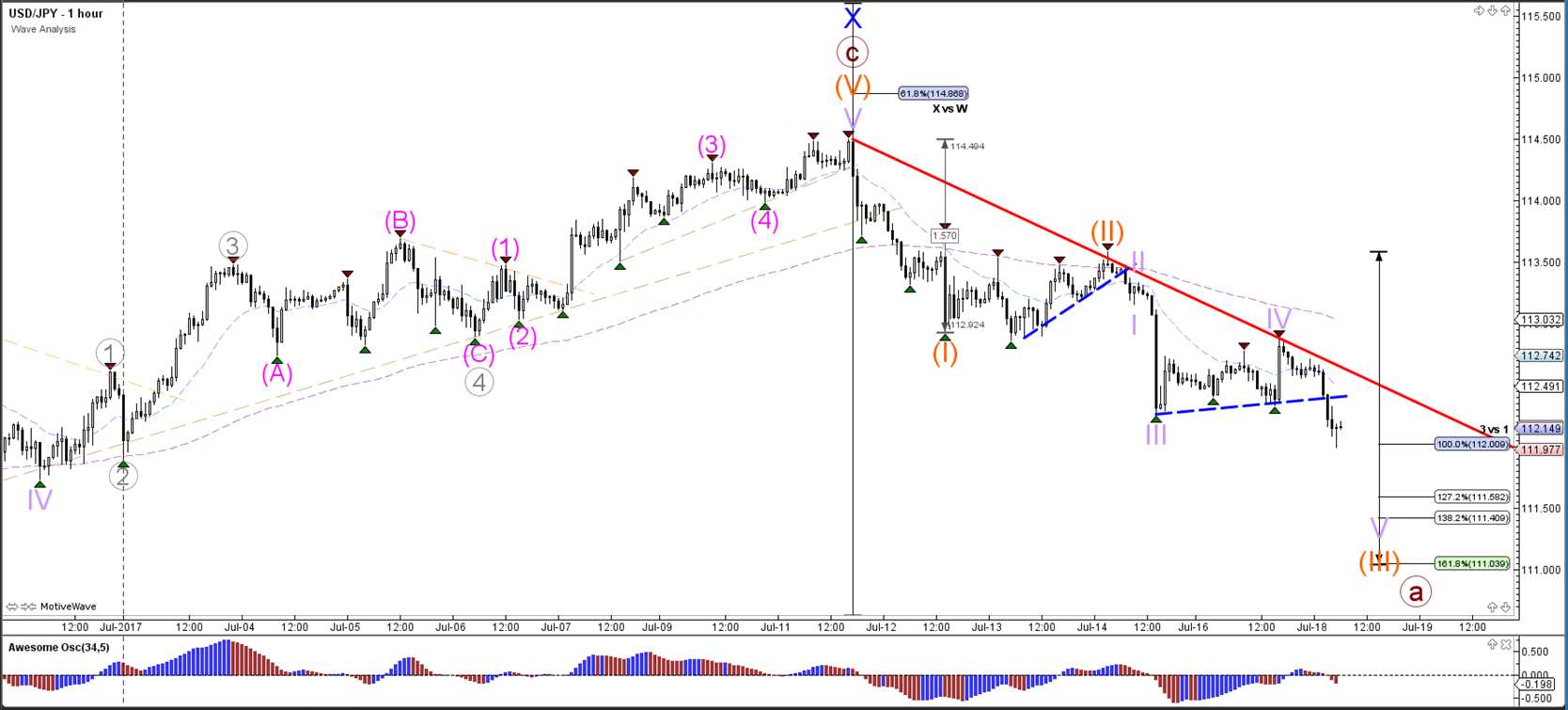 The USD/JPY indeed turned at the resistance trend line (red) which confirmed the wave 4 (purple). The break below the support trend line (dotted blue) could indicate the potential for USD/JPY to move lower towards the Fibonacci targets.
GBP/USD
4 hour
The GBP/USD is continuing with the uptrend after the break above the 1.30 resistance level (dotted red). The Fibonacci levels of wave 5 (orange) are the next targets.
1 hour
The GBP/USD completed a retracement to the 338.2% Fibonacci support level of wave 4 vs 3 (purple) and used the support for a bullish bounce. The bullish breakout above resistance (dotted red) will probably start the wave 5 (purple) of wave 3 (grey).
Follow @ChrisSvorcik on twitter for latest market updates.
Connect with Chris Svorcik on Facebook for latest Forex and education tips.