What is Short Selling?
Reading time: 11 minutes
Discover everything you need to know about short selling. Learn what it is, how it works, why you should consider short selling via CFDs, how to short a stock CFD, the best stocks to short, and the markets you can trade short positions on!
'Buy low and sell high' - a trading quote stuck on the walls of many trading floors. When markets are going up, it can work out very well. If you buy Company 'ABC' at $100 and then sell it at $150, that's a tidy profit of $50, minus any commissions or interest. But, what happens when the market isn't going up? What happens if the market is going down? If you bought Company ABC, you may be losing money. However, there will be some savvy traders out there who would have been shorting the market. Their short positions will be making them money, as long as the market keeps going in their direction.
Short Selling Defined
When it comes to asking the question 'what is short selling?', it can defined as taking a bearish, or negative trade on an asset. Rather than buying low and selling high, you will sell high and buy low, making a profit on the change in the asset's price.
In this instance, the trader believes that the market will go down, and will want to profit from the move by initiating a short position, or a 'sell' trade, rather than a 'buy' trade. Before we look at some of the reasons why you would consider shorting a stock, or any other asset class, let's first understand how short selling works, how does shorting a stock work, and how you can start to take your first short trade.
How Does Short Selling Work?
Traditionally, a short seller would borrow the shares of a stock that they do not own (usually from their broker's account). They would then sell these shares on the open market at the current market price. The aim for the short seller is to re-purchase those shares at a lower price in the future, and then give back the borrowed shares. They would then pocket the difference of what they sold them for, and then the cost of buying them back.
An Example Of Short Selling
Let's assume that a trader took a short position of 100 shares of Company ABC, at a price of $20 per share. After a period of time, the stock declines to $10, and the trader then decides to re-purchase the shares. The profit on the trade would be $1,000 [($20 - $10) x 100 shares], minus any commissions and interest.
However, what happens if the stock went up after the trader took on their short position? Let's say that Company ABC spiked to $50 per share, and the trader decided to cut their losses. In this case, their loss would be $3,000 [($50 - $10) x 100], on top of any commission and interest that they had to pay for the position.
As you can see here, the losses are greater than 100% of the invested capital. This is the major risk of short selling - an infinite loss. As there is no upper limit to a stocks' price, the short seller's maximum loss is theoretically infinite. However, there are products available that can help short sellers to minimise risk.
Trade Risk-Free With Admiral Markets
For example, did you know that it's possible to trade with virtual currency, using real-time market data and insights from professional trading experts, without putting any of your capital at risk? That's right. With an Admiral Markets risk-free demo trading account, professional traders can test their strategies and perfect them without risking their money.
A demo account is the perfect place for a beginner trader to get comfortable with trading, or for seasoned traders to practice. Whatever the purpose may be, a demo account is a necessity for the modern trader. Open your FREE demo trading account today by clicking the banner below!

Why Should You Consider Short Selling Via CFDs?
A CFD (or Contract for Difference), allows traders to speculate on the rise and fall of a market, without owning the underlying asset. Essentially, a CFD is a contract between two parties - the trader and the broker. At the end of the contract, the two parties exchange the difference between the price of the stock at the time they entered into the contract, and the price of the stock at the end.
In essence, the trader is paying the difference between the opening and closing price of the stock, or company they are trading. The simplicity of entering and exiting positions, compared to other trading vehicles, is just one reason why short selling stock CFDs is very popular. That's not to say it's easy, of course, but there some benefits, such as:
Leverage - a retail trader can trade positions five times their balance. A professional trader can trade positions twenty times their balance.
Trade in any direction - Go long or short on any stock. No extra charges on short sales.
Access global stock markets - trade US Share CFDs, EU Share CFDs, UK Share CFDs
Having the right products at your fingertips is hugely important to traders involved in global markets. With Admiral Markets, there are several different options available when it comes to investing and trading with Stocks, ETFs, Share CFDs etc. For example, Admiral.Invest enables traders to buy and own stocks. Admiral.Markets, Admiral.Prime, and Admiral.MT5 enable professional traders to trade with currencies, cryptocurrency CFDs, Stock CFDs, Bond CFDs, and much more!
If you would like to explore each option in detail, make sure to read Admiral Markets' account types webpage, where you can explore a detailed breakdown of all the trading instruments available for each account, the leverages available, and more. Put simply, with an Admiral Markets CFD trading account, you can speculate on rising and falling prices. This offers traders unique flexibility when trading the financial markets.
How Do You Short a Stock CFD?
Thanks to new technology, short selling a market has never been more simple. The key is in owning the right platform. For example, the MetaTrader Supreme Edition plugin for MetaTrader 5 is a platform that enables you to trade across US, EU, and UK Share CFDs with advanced platform features.
Source: Admiral Markets MT5 Supreme Edition - #AAPL, Weekly Chart - Data range: 25 Jan 2015 to 18 November 2018 - Performed on 18 November 2018 at 9:31 PM GMT - Please Note: Past performance does not indicate future results, nor is it a reliable indicator of future performance.
The chart above displays Apple stock. The MT5 Supreme Edition platform enables traders to view historical price data of stock prices, as well as the ability to use a whole range of free trading indicators, to aid with making trading decisions. However, this version also has the 'Mini Terminal' feature which allows you to choose the parameters of your trade.
For example, to place a short order one would simply click the 'Sell' button, where you can also add a stop loss and a take profit level. These orders help traders to get out of their positions at predefined price levels, either at a loss or in profit. Before one can take a trade, it could prove to be useful to have some idea of which stocks are suitable for shorting opportunities, so let's take a look:
What Are the Best Stocks to Short?
Unfortunately, no one can predict the future. However, there are certain scenarios where short selling stocks may prove to be useful, here are three scenarios where short selling stocks might potentially be a good move:
#1. A financial crash happens
Remember the 2008 financial crash? What about the 2000 tech bubble? Crashes do happen, albeit not that often. However, it's all about being prepared, so if it does happen, you know what to do.
#2. A company scandal
This scenario happens more frequently than financial crashes. Remember Volkswagen's diesel emission scandal in 2015?
Source: Admiral Markets MT5 Supreme Edition - #VOW, Weekly Chart - Data range: 1 April 2011 to 18 November 2018 - Performed on 18 November 2018 at 9:52 PM GMT - Please Note: Past performance does not indicate future results, nor is it a reliable indicator of future performance.
The box highlighted in yellow displays monthly bars of the drop in Volkswagen's stock price during the diesel emission scandal. The move down wiped out three years worth of rising prices. Having the right platform and product to be short the market could have proved useful in this particular instance, depending on your strategy.
#3. An earnings miss
Every quarter, public companies release their earnings report. Analysts give out their estimates on what they think the numbers of earnings per share and revenues, amongst others, will be. If the company misses these estimates, it causes some traders to dump their stock and some to initiate new short positions. After a series of bad earnings reports, the company could start to exhibit features of a down trend.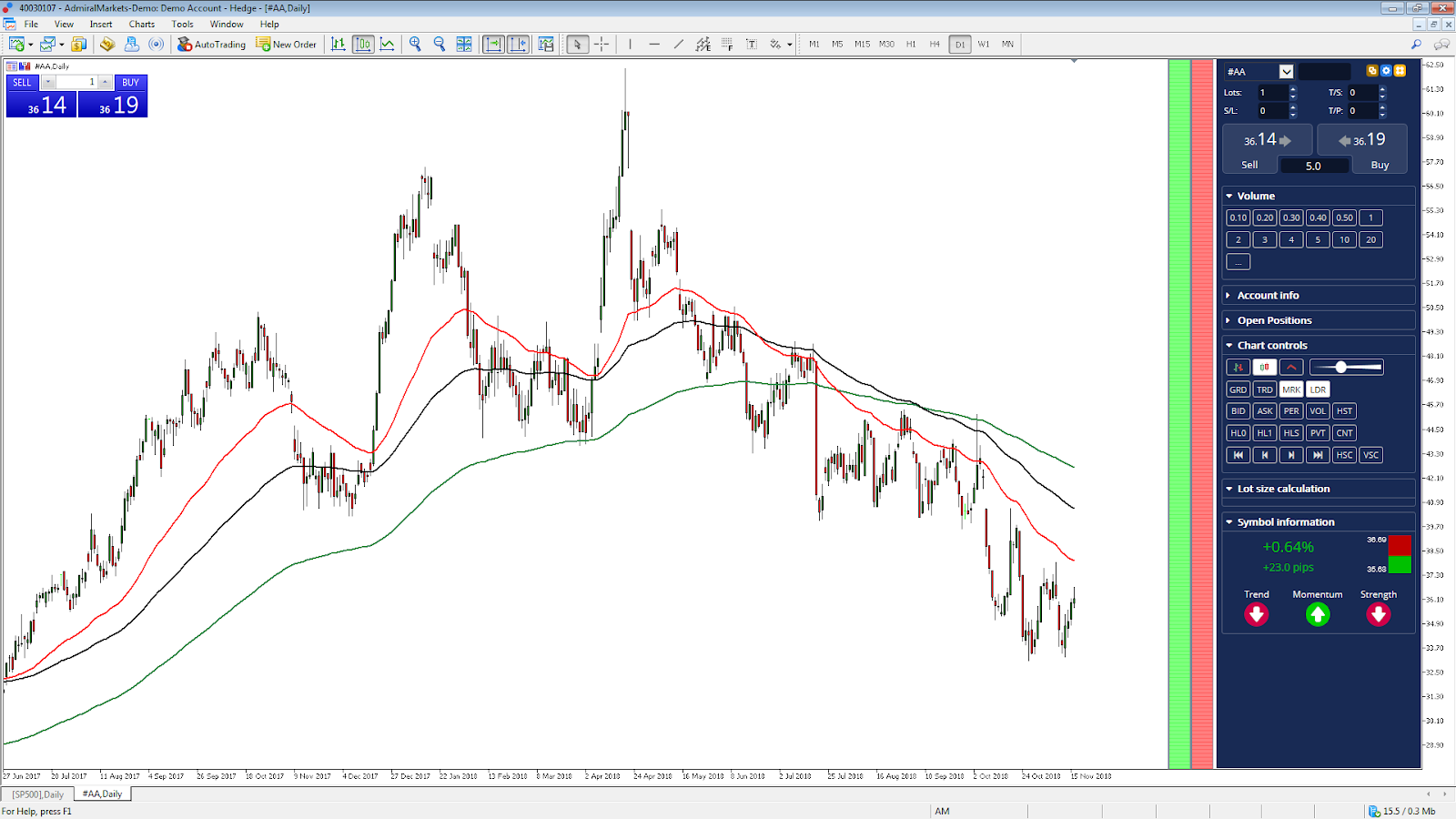 Source: Admiral Markets MT5 Supreme Edition - #AA, Daily Chart - Data range: 27 June 2017 to 18 November 2018 - Performed on 18 November 2018 at 10:02 PM GMT - Please Note: Past performance does not indicate future results, nor is it a reliable indicator of future performance.
The screenshot above is a chart of Alcoa, the world's sixth largest producer of aluminium. After enjoying a rising price for much of 2017, mid 2018 marked the point where the stock started to fall. Having the flexibility to participate in the upside and downside puts traders in unique positions of market activity. Sometimes a trader wants to participate in shorting the market, rather than an individual stock. This is another benefit of short selling with CFDs.
What Other Markets Can You Trade a Short Position On?
With Admiral Markets you can participate in short selling, or taking a bearish view on multiple assets. So what other assets can you take a short position on? Here are some examples:
Forex
Commodity CFDs
Index CFDs
Bond CFDs
Share CFDs
Conclusion
Short selling an asset means to take a bearish view on its price. In this instance, the trader believes that prices will fall. Maybe they are considering shorting the market because of a potential financial crash. Or, perhaps they are shorting stocks due to an earnings miss, or maybe it's a simple down trend scenario. The traditional method of short selling stocks is to borrow the stock, and then sell it on the open market, rebuying it back when the prices fall. However, there are now simpler products, like Share CFDs, that allow traders to speculate on prices rising or falling without any ownership.
Platforms like MetaTrader 5 and add-ons like the MetaTrader 5 Supreme Edition plugin can help traders in their decision making process, by providing advanced trading features. In addition, with a demo trading account, you can practice taking a short position on multiple asset classes such as Share CFDs, Forex, Index CFDs, Commodity CFDs and Bond CFDs. If you are considering learning the art of short selling, trading in a risk free environment can help you to hone your trading skills, and inhibit you from putting your capital at risk, until you are ready to do so.
To get started with your trading experience, click the banner below and download MetaTrader 5 for FREE!
This material does not contain and should not be construed as containing investment advice, investment recommendations, an offer of or solicitation for any transactions in financial instruments. Please note that such trading analysis is not a reliable indicator for any current or future performance, as circumstances may change over time. Before making any investment decisions, you should seek advice from independent financial advisors to ensure you understand the risks.