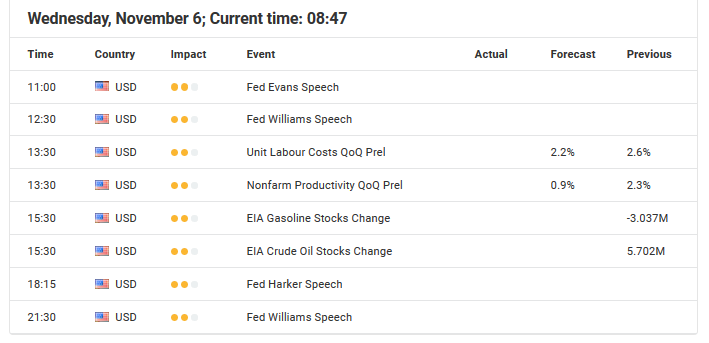 Source: Economic Events 06 November 2019 - Admiral Markets' Forex Calendar
After the FED cut rates by 25 basis points last Wednesday, but didn't deliver any significant further impulses or signs in regards to future monetary policy steps, the ISM Non-Manufacturing data set yesterday pointed to a rise of 54.7 in October from a near 3-year low of 52.6 in September, beating market expectations of 53.5. Business activity, employment and new orders all grew at faster rates.
As a result, expectations among market participants of another FED rate cut by 25 basis points in December dropped to around 5%, making such a step very unlikely and pushed the yellow metal back below 1,500 USD.
If Gold bulls succeed in breaking above 1,520 USD, another test of the current yearly highs around 1,557 USD may be possible. However, currently the mode is bearish in the short term.
Nevertheless, the overall technical picture on a daily time-frame didn't significantly darken, but instead brings now a potential mid-term long trigger around 1,440/450 USD into play.
Source: Admiral Markets MT5 with MT5SE Add-on Gold Daily chart (between 07 August 2018 to 05 November 2019). Accessed: 05 November 2019 at 10:00 PM GMT
Please note: Past performance is not a reliable indicator of future results, or future performance.
In 2014, the value of Gold fell by 1.7%, in 2015, it fell by 10.4%, in 2016 it increased by 8.1%, in 2017 it increased by 13.1%, in 2018, it fell by 1.6%, meaning that after five years, it was up by 6.4%.

Disclaimer: The given data provides additional information regarding all analysis, estimates, prognosis, forecasts or other similar assessments or information (hereinafter "Analysis") published on the website of Admiral Markets. Before making any investment decisions please pay close attention to the following:
This is a marketing communication. The analysis is published for informative purposes only and are in no way to be construed as investment advice or recommendation. It has not been prepared in accordance with legal requirements designed to promote the independence of investment research, and that it is not subject to any prohibition on dealing ahead of the dissemination of investment research.
Any investment decision is made by each client alone whereas Admiral Markets shall not be responsible for any loss or damage arising from any such decision, whether or not based on the Analysis.
Each of the Analysis is prepared by an independent analyst (Jens Klatt, Professional Trader and Analyst, hereinafter "Author") based on the Author's personal estimations.
To ensure that the interests of the clients would be protected and objectivity of the Analysis would not be damaged Admiral Markets has established relevant internal procedures for prevention and management of conflicts of interest.
Whilst every reasonable effort is taken to ensure that all sources of the Analysis are reliable and that all information is presented, as much as possible, in an understandable, timely, precise and complete manner, Admiral Markets does not guarantee the accuracy or completeness of any information contained within the Analysis. The presented figures refer that refer to any past performance is not a reliable indicator of future results.
The contents of the Analysis should not be construed as an express or implied promise, guarantee or implication by Admiral Markets that the client shall profit from the strategies therein or that losses in connection therewith may or shall be limited.
Any kind of previous or modeled performance of financial instruments indicated within the Publication should not be construed as an express or implied promise, guarantee or implication by Admiral Markets for any future performance. The value of the financial instrument may both increase and decrease and the preservation of the asset value is not guaranteed.
The projections included in the Analysis may be subject to additional fees, taxes or other charges, depending on the subject of the Publication. The price list applicable to the services provided by Admiral Markets is publicly available from the website of Admiral Markets.
Leveraged products (including contracts for difference) are speculative in nature and may result in losses or profit. Before you start trading, you should make sure that you understand all the risks.