Before Christmas, the U.S. dollar recovered
December 23, 2019 10:00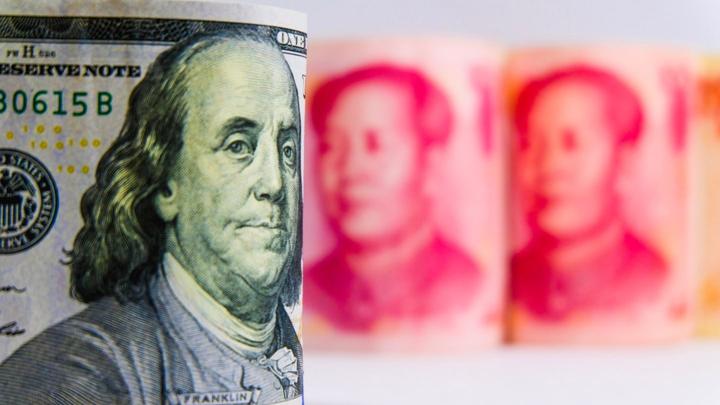 The U.S. dollar sentiment prevailed in the currency market last week and the reserve currency index rose to a 200-day moving average on its daily chart. There has been much discussion among investors about the guidelines for an international trade agreement between the U.S. and China. Market participants are worried about China's commitment to increase purchases of agricultural commodities, which would mean up to several times more exports than now, especially as China has welcomed new players into the supply chain in recent years, likely with long-term agreements, which are not expected to be easily changed. For this reason, investors worry that the agreement on China's side may not be implemented and the U.S. will revert to a tariff-raising policy. It is also interesting that Chinese President Xi Jinping has announced that he will not attend the Davos Congress in January, where presidents were expected to sign an agreement. According to recent news, China will send leading negotiator and vice-Prime Minister Liu He to Washington in January.
USD
U.S. economic data was ambiguous. The preliminary manufacturing PMI index was at 52.5 points and remained stable in the expansion area. Meanwhile, actual industry volume data was negative and recorded a -0.75% contraction in November. Labour market data showed no trend, with 7.27 million new open positions, up from last month, and new unemployed applications reaching 234,000, remaining elevated from recent levels.
Euro
The main currency pair EUR/USD depreciated over the past week as it hit a 200-day moving average on the daily chart. Among the economic data, preliminary manufacturing PMI attracted significant attention, falling to 45.9 points at the European level and falling to 43.4 in Germany. This makes it clear that negative trends are still reigning in the European industry segment and are damaging the overall sentiment of the Old Continent. Inflation in Europe reached 1.0% year-over-year in November. EUR/USD has ended the week depreciating -0.4%.
JPY
The leading Asian pair USD/JPY has consolidated at 109.5 points. Economic data was mixed: exports fell -7.9% year-over-year, but slightly lower than in previous periods. Inflation remained low at 0.5% per year. Monetary policy remained unchanged at the central bank meeting, although comments on further stimulus, should the economic situation so require, persisted. USD/JPY has ended the trading week appreciating +0.1%.
GBP
The British pound recorded one of the worst performances among major currencies. The positive sentiment has fallen sharply, amid concerns that the country's prime minister will be in a hurry to complete his exit from the European Union. Last week, Parliament tentatively approved the exit agreement, but it stipulates that the deadline cannot be extended beyond the end of 2020, which worries investors about the haste and potential malfunctioning. Among the economic indicators, there was preliminary manufacturing PMI, which dropped to 47.4 points. Labour market results were rather poor with the number of unemployed rising by 28 thousand. Inflation was 1.5%. The central bank did not change its monetary policy. GBP/USD has ended the week depreciating -2.5%.
Economic Events
This week will be festive, therefore it is expected to be quite peaceful. On Monday, key data is expected from the U.S., where we will find changes in durable goods orders that signal business sentiment towards investment in development and equipment. Tuesday, Wednesday, and Thursday in many countries are holidays. Japanese inflation and retail sales figures are expected on Friday.
According to Admiral Markets market sentiment data, in EUR/USD pair 60% of investors have long positions (increased +14 percentage points compared to last week). In the main Asian pair USD/JPY 24% of investors have long positions (down -7 percentage points). In the GBP/USD pair, 60% of participants expect a rise (increased +33 percentage points). Such market data is interpreted as contraindicative, suggesting that the EUR/USD and GBP/USD pairs are likely to depreciate and the USD/JPY to appreciate. Analysis of positioning data should always be accompanied with fundamental projections and technical analysis.
Sources: bloomberg.com, reuters.com, Admiral Markets MT4 Supreme Edition, investing.com
Discover the world's #1 multi-asset platform
Admiral Markets offers professional traders the ability to trade with a custom, upgraded version of MetaTrader 5, allowing you to experience trading at a significantly higher, more rewarding level. Experience benefits such as the addition of the Market Heat Map, so you can compare various currency pairs to see which ones might be lucrative investments, access real-time trading data, and so much more. Click the banner below to start your FREE download of MT5 Supreme Edition!
Disclaimer: The given data provides additional information regarding all analysis, estimates, prognosis, forecasts or other similar assessments or information (hereinafter "Analysis") published on the website of Admiral Markets. Before making any investment decisions please pay close attention to the following:
This is a marketing communication. The analysis is published for informative purposes only and are in no way to be construed as investment advice or recommendation. It has not been prepared in accordance with legal requirements designed to promote the independence of investment research, and that it is not subject to any prohibition on dealing ahead of the dissemination of investment research.
Any investment decision is made by each client alone whereas Admiral Markets shall not be responsible for any loss or damage arising from any such decision, whether or not based on the Analysis.
Each of the Analysis is prepared by an independent analyst (Jens Klatt, Professional Trader and Analyst, hereinafter "Author") based on the Author's personal estimations.
To ensure that the interests of the clients would be protected and objectivity of the Analysis would not be damaged Admiral Markets has established relevant internal procedures for prevention and management of conflicts of interest.
Whilst every reasonable effort is taken to ensure that all sources of the Analysis are reliable and that all information is presented, as much as possible, in an understandable, timely, precise and complete manner, Admiral Markets does not guarantee the accuracy or completeness of any information contained within the Analysis. The presented figures refer that refer to any past performance is not a reliable indicator of future results.
The contents of the Analysis should not be construed as an express or implied promise, guarantee or implication by Admiral Markets that the client shall profit from the strategies therein or that losses in connection therewith may or shall be limited.
Any kind of previous or modeled performance of financial instruments indicated within the Publication should not be construed as an express or implied promise, guarantee or implication by Admiral Markets for any future performance. The value of the financial instrument may both increase and decrease and the preservation of the asset value is not guaranteed.
The projections included in the Analysis may be subject to additional fees, taxes or other charges, depending on the subject of the Publication. The price list applicable to the services provided by Admiral Markets is publicly available from the website of Admiral Markets.
Leveraged products (including contracts for difference) are speculative in nature and may result in losses or profit. Before you start trading, you should make sure that you understand all the risks.