New indicator and Autochartist Market Reports (trading signals) are now available in MT4 Supreme Edition 2015.03.27
March 27, 2015 09:56
Our team is always on the lookout for improvements in the trading services we offer you - We are proud to present a new handy Chart Linking indicator and Autochartist Market Reports right inside your MT4 Supreme Edition.
Chart Linking Indicator
Manage multiple charts in truly effective way! Chart Linking indicator allows you to link charts in the same way as NinjaTrader or eSignal: when you change the symbol on one of the charts, the symbol (or timeframe) on all other linked charts automatically changes as well.
For example, you can have 4 charts (e.g. for M5, M30, H1, and D1), and you can change the symbol on all 4 charts just by changing the symbol on any one of them: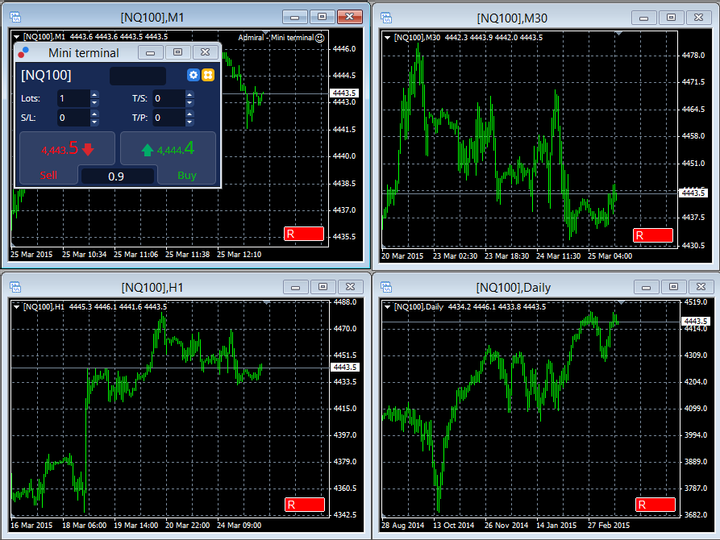 Or - apply one time frame setting for all of them.
AutoChartist Market Reports
We offer the full Admiral AutoChartist tool FREE of charge for all holders of our Trade.MT4 real accounts. As a plus now we add a short market summary directly to our MT4 Supreme Edition. Save time daily: now there is no need to navigate away from your trading platform so to get market reports - you can access them right inside "Connect" tab. Analysis, trading signals, chart patterns, trading ideas of the most wanted Forex pairs - just few clicks away, available in your language.



Autochartist Market Reports are automatically generated using the trusted Autochartist Pattern Recognition Engines. Comparable in every respect to technical analysis reports delivered by human analysts (except that they contain no bias), they are delivered at an absolute fraction of the cost.
If you like to get more Forex pairs, and also other instruments like indices and commodities, get free access as an Trade.MT4 live account client! Admiral AutoChartist is available completely free of charge by registering in our Trader's Room!
MT4 Supreme Edition (MT4SE) is our latest Add-On for MetaTrader 4 platform (MT4). It allows you to make use of new advantageous trading features in form of Expert Advisers and Indicators, bringing the software to a higher level. Let's call it "tuning" of the MT4 - with over 60 free utilities to boost your trading experience.
The variety of Indicators and Expert Advisers is large, and testing them takes a lot of time. Admiral Markets has collected the best, most useful features with a user-friendly interface, making you able to use them from day one.
The rest of the features we will leave up to you to discover!
Enjoy the enhanced trading experience with the newly upgraded and exclusive MetaTrader 4 Supreme Edition for Admiral Markets' customers - happy trading!
***
Disclaimer: Any new technical solution is recommended to be tested personally. Please familiarize yourself with our advanced tools in demo environment before trading with your real trading account. MetaTrader 4 Supreme Edition is a third party software and Admiral Markets shall not be responsible for any malfunctions therein. Please also note that any Expert Advisor will only run if MT4 platform is active, your account is connected to our server and AutoTrading is enabled in options.

The research contained in Autochartist Market Reports should not be construed as a solicitation to trade.