Google's parent company Alphabet (stock ticker GOOG) has been on a roller-coaster ride this year. After setting an all-time high price of $1,296.97 on April 29, 2019, shares subsequently collapsed more than 20%, briefly putting it into bear market territory for the second time in just one year. However, with a small bounce back up, what's next for the tech giant?
In this article, we explore the issues surrounding Alphabet, what could be next for the stock price and the possible trading opportunities around - what could be - an historic turning point for the company. Let's get started!
Why did Alphabet stock collapse?
After reaching its all time on April 29, the subsequent 20% fall was due to a variety of reasons. Mostly, investor panic had set in after reports circulated in the financial media that the U.S Justice Department (DOJ) may investigate Google for hampering competition.
The investigation forms part of a broader attack of the company from the Trump administration about Google's political bias and its plans for China. Aspiring U.S presidential candidates for next year's election have also taken a tough stance on the market dominance of Google, as well as other tech giants such as Amazon and Apple.
It comes at a difficult time for Google's parent company Alphabet after recent concerns regarding an abrupt slowdown in revenue in the last financial quarter. Google's search engine, YouTube and other businesses have launched the company into one of the biggest tech titans in the world. But what has investors most concerned is that a possible DOJ investigation could lead to a break up of the company.
As Bank of America Merrill Lynch analyst Justin Post said in an investor note: "To break up Google, the DoJ would likely have to file a lawsuit and convince judges that Google has undermined competition. It is very rare to break up a company but not unheard of."
How to Trade Alphabet Stock
With Admiral Markets you are able to speculate on Alphabet's stock price by using a product called a CFDs, or Contract for Difference. Essentially, this enables traders to go long and short on a security. Longer-term investors can also invest in shares of companies through Admiral.Invest, with investing fees starting at just $0.01 per share.
Below is the long-term weekly price chart of Google's parent company Alphabet Inc: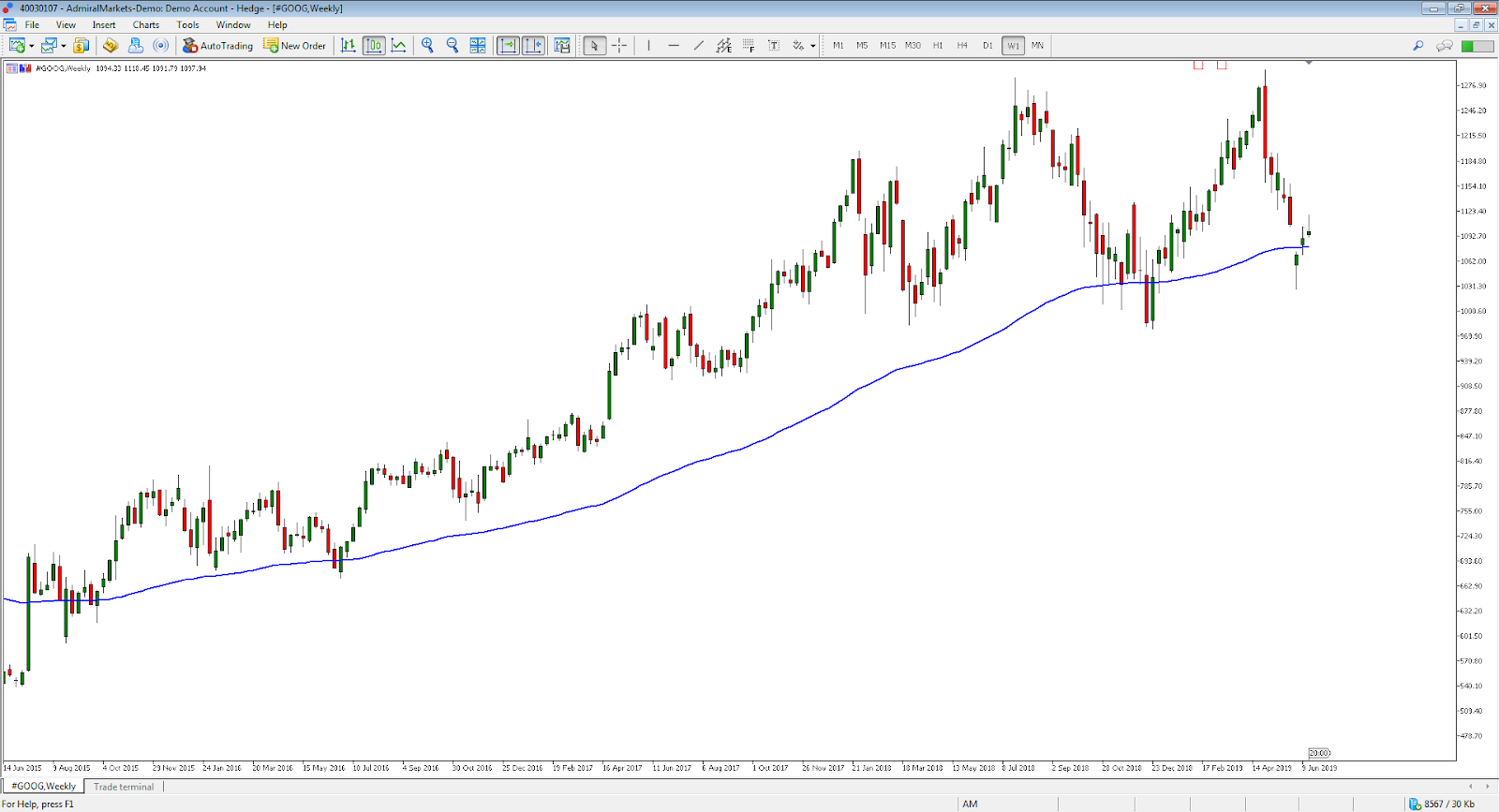 Source: Admiral Markets MT5 Supreme Edition, GOOG, Weekly - Data range: from June 14, 2015, to June 19, 2019, accessed on June 19, 2019, at 3:36 pm BST. - Please note: Past performance is not a reliable indicator of future results.
In the above price chart, the stock price has been rising in the long-term with some big swings and market declines at different times. Most notably the collapse starting in June 2018 and more recently in April 2019.
However, the stock price has managed to stay above its 100 period monthly moving average. With recent price action hovering around this key support level, traders and investors like will be watching with interest what happens. Will the market bounce off this and push higher or will there be a break through it to put the stock back into bear market territory yet again?
If the stock price does continue to push lower traders will be eyeing key support areas on the daily chart which show a sideways consolidation, as highlighted below:
Source: Admiral Markets MT5 Supreme Edition, GOOG, Daily - Data range: from Oct 17, 2017, to June 19, 2019, accessed on June 19, 2019, at 3:41 pm BST. - Please note: Past performance is not a reliable indicator of future results.
In the above daily chart of Alphabet's stock price it is clear to see the consolidation of price between the upper black horizontal line and the lower black support line. While traders will often use these levels to initiate short, or long, positions on - they are often used as target areas as well.
Short sellers could stay in control of Alphabet's stock price all the way back down to the $983 price level where some long-term value players may start to initate long positions - depending on the fundamental situation at the time.
Conclusion
The tech sector is facing heightened scrutiny of its market dominance from government regulators. If this continues, companies such as Alphabet may continue to struggle - no matter how popular their Google search engine is. How will you be trading it?
With MetaTrader 5 you can trade on multiple asset classes, as well as access superior charting capabilities, free real-time market data & analysis, the best trading widgets available, and much more! To download MetaTrader 5 now, click the banner below and receive it for FREE!

INFORMATION ABOUT ANALYTICAL MATERIALS:
The given data provides additional information regarding all analysis, estimates, prognosis, forecasts, market reviews, weekly outlooks or other similar assessments or information (hereinafter "Analysis") published on the website of Admiral Markets. Before making any investment decisions please pay close attention to the following:
1.This is a marketing communication. The content is published for informative purposes only and is in no way to be construed as investment advice or recommendation. It has not been prepared in accordance with legal requirements designed to promote the independence of investment research, and that it is not subject to any prohibition on dealing ahead of the dissemination of investment research.
2.Any investment decision is made by each client alone whereas Admiral Markets AS (Admiral Markets) shall not be responsible for any loss or damage arising from any such decision, whether or not based on the content.
3.With view to protecting the interests of our clients and the objectivity of the Analysis, Admiral Markets has established relevant internal procedures for prevention and management of conflicts of interest.
4.The Analysis is prepared by an independent analyst Jitan Solanki, Freelance Contributor (hereinafter "Author") based on personal estimations.
5.Whilst every reasonable effort is taken to ensure that all sources of the content are reliable and that all information is presented, as much as possible, in an understandable, timely, precise and complete manner, Admiral Markets does not guarantee the accuracy or completeness of any information contained within the Analysis.
6.Any kind of past or modeled performance of financial instruments indicated within the content should not be construed as an express or implied promise, guarantee or implication by Admiral Markets for any future performance. The value of the financial instrument may both increase and decrease and the preservation of the asset value is not guaranteed.
7.Leveraged products (including contracts for difference) are speculative in nature and may result in losses or profit. Before you start trading, please ensure that you fully understand the risks involved.