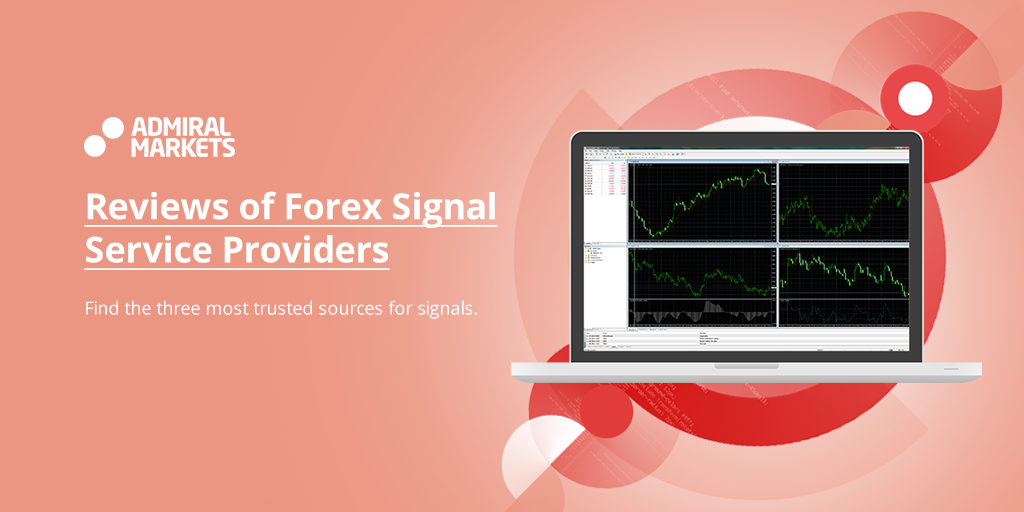 As a trader, you are most likely to have encountered a number of different Forex signals. The main task for any beginner trader is to learn how to trade efficiently and gain an understanding of the Forex market, rather than to just copy signals they may not fully understand. That being said, the knowledge of what those signals actually mean for a trader in general and how to apply them is useful for traders of all proficiency levels.
In order to benefit from signals, you need to know what role Forex trading signals provider play in trading. You also need to look at how Forex trading community rates affect different providers, and find a reliable provider that doesn't manipulate results and make completely false statements. In this article, we're going to address these matters and provide you with some guidance to help you choose the best Forex trading signal provider.
First, let us explain what Forex signals stand for. Signals act as a trade alert for the currency market. It notifies traders when to enter or exit a trade. Signals can be split into three groups:
News trading signals
Technical signals
Real time trading ideas – Webinars
The first one mentioned in the list is the fundamental approach to Forex signals. The aim of this signal is to get the news release as quickly as possible, so the trader can gain the maximum level of profit in a short period of time. These signals will often come with daily or weekly commentary and analysis.
Technical trading signals are simply trading tips on the basis of technical analysis. That means you trust the background and track the record of the provider of what you may consider to be the best Forex signals service issuing certain signals. You may prefer to trade on this basis rather than enter your own orders. Technical Forex signals are frequently issued along with different risk management strategies in order to ensure minimal losses if the current plan does not work out as it was initially expected. Most online Forex signals tend to fall under this category, which can make the search for the best Forex trading signal provider a much longer task.
Forex Signal Providers, 2018 Overview
Having general knowledge of Forex signals will help you in finding the best Forex trading signals provider. Forex signals can be obtained from various companies that specialise in this service, as well as from a number of top Forex brokers who provide them for traders of standard or VIP accounts. The price will vary depending who you get the service from. Using a broker, some may offer the service for free, whilst others may charge between 5-10 USD per day, maybe more. For long-term access, there are packages with a one-time subscription payment, often ranging from 100-150 USD, however, these can be as high as a few hundred dollars depending on the provider.
Services that you gain upon signing up with a Forex signals provider generally differ from firm to firm. You might expect to receive almost anything from performance trackers, email, or SMS alerts, customer support via email or phone and, of course, an advanced analysis of more sophisticated offers. Because Forex signal service providers must protect their strategies, trading with them always involves blind trust, to some extent, in the chosen company or individual behind the issued Forex signals.
The trustworthiness of options available on the Internet will vary widely, the same as with anything related to making profit in any market. If you encounter providers boasting 80-90% success rates, you should take those claims lightly – if it seems too good to be true, it probably is. Of course, there are companies with good success rates, but if they are genuine, they will be able to provide evidence and information to back up their claims. If a company can provide this, they should be classed as the best Forex signals provider. You should keep in mind that your ability to successfully utilise the obtained Forex signals depends on the efficiency of your broker's service. That especially comes to light with Forex news based trading, where you must act as quickly as possible, being sure that any issues that have any relation to slippage and misquotes will be minimal.
Whether you are going to use Forex signals or not will depend on your personality and trading plan. For instance, in case you are a highly active individual with little time to spend on thorough analysis of the market, Forex signals offer an alternative to manual trading. If you want to learn the mechanics of trading in detail, you will gain a very modest benefit from subscribing to these MQL5 Forex alerts. We cannot omit one discouraging factor concerning Forex trading signals... and that is the high price tag. As we have mentioned earlier, the appliance of signals depends on your level of proficiency in trading, your expectations and main goals.
Forex Signals in the MetaTrader
The MetaTrader 4 & 5 offers a comprehensive library of Forex signals for your trading via the integrated MQL5 signal service.

With your live or demo accounts, you can subscribe to demo or real money signals. If the signal provider makes a trade, it will be executed on your account as well. It is important to note that there are free and paid signals. Chargeable signals are linked to a monthly subscription, which can be canceled at any time. However, you should be aware that there may be a fee for the service, so you should check carefully if the signal is suitable for you and your strategy.

MetaTrader offers extensive statistics for each individual trading signal. In the terminal of your MetaTrader 4 or 5 you will find the menu tab Signals.
Here you will first get an overview of all available trading signals offered in MetaTrader.

In this overview, you can already see important statistics that are necessary for your decision for or against a Forex signal:


The growth of the signal over the entire period
The number of weeks the signal exists
The number of subscribers
The maximum decrease in percent and the profit factor
The subscription costs
source: MetaTrader 5, May 2018
Of course, it makes sense to choose a signal that has existed for a long time and has consistently achieved success. So you can already do your first filtering here.

If you now click on a signal, you will receive additional comprehensive statistics about the signal.

In this window, you will see a trace and get statistics about the most important parameters of the signal. Here you make your final selection, as you get all the information collected here.

For example, you can use the curve and the various statistical reports to estimate the risk of the signal that traded trading instruments are seeing, and decide whether that forex signal is right for you.

With the Visualization button, you even have the option of displaying all trades in the history directly in a chart.
source: MetaTrader 5, May 2018
Before you subscribe to a paid trading signal, you should be sure that you make the right decision. Keep in mind that subscribing to your account will result in genuine trades that will of course affect your balance - in case of doubt, not just positive.

So do not be rash, but analyse the existing offer thoroughly. Forex signals offer a possibility for earning money even with little experience in Forex markets. But you should never forget the risk of losses.

In addition to the forex signals available in the MetaTrader, the tips and trading ideas from our countless free live webinars could be a useful supplement for you: Take a look over the shoulders of professional day traders and learn from them the pros. In live webinars, you get various impulses that can complement the use of forex signals.
Admiral Markets signals - Webinars and Real-Time Trading Ideas
The number of trading signals sent out by this Forex signal provider undoubtedly has something to offer to traders. If you already have some experience and moderate knowledge of the financial markets, you may benefit from utilising these signals.
As for MT4/MT5, Admiral Markets users can utilise these webinar signals with ease.
Each live trading webinar presented by Nenad Kerkez is a form of trading signal, or an idea. Nenad is a professional trader and a leading industry analyst who recently won The Best Sell-Signal Award 2018 by Fxstreet.com. His real trading webinars are:
Weekly Trading Recap: Forex, Equities and Commodities (each Monday)
Wednesday Live Trading Session with Nenad (each Wednesday)
Real Time Trading Ideas (each Thursday)
Feel free to browse the channel with his day trading ideas and signals and subscribe for his webinars.
Additionally, Admiral Markets offers signals each working day with Real-Time Daily Trading Idea webinars. Webinars are hosted by different day traders and offer a complete insight into trading ideas and signals.
This unique approach should guide you more safely through Forex & CFD trading.
You may notice that we haven't mentioned any free Forex signals providers. The reason – their quality is often debatable, and they often lack the evidence to back up their success rates.

Conclusion
We have talked about Forex signals, what they stand for, their types and appliance in general Forex trading. In particular, we talked about how to define a top Forex signal provider 2018 by providing theoretical information, and tips. Our intention isn't to encourage you to utilise signals, but rather to give you an understanding of what is available should you want to include signals in your trading strategy. Remember, however many benefits signals seem to offer, they aren't a replacement for experience and real trading skills. Build up your knowledge and gain a real understanding of the Forex trading market before you start to rely too heavily on signals.
We hope that this article has been helpful for you and we wish you good luck in your future trades.
---