Forex Grid Trading Strategy Explained
November 11, 2019 07:30 UTC
Welcome to our article on the Forex Grid trading strategy. This short guide will provide you with a detailed explanation of what the Forex Grid trading strategy is, how to implement the grid system, and some examples of scenarios that may occur as a result.
The Forex grid system has become quite popular among traders because it's easy to visualise. However, it is important to know that there's no guarantee. If you want to succeed with the grid system, you must know how to execute the system correctly. To use strategies related to the Forex grid system, you have to understand:
The way the market works
Current market dynamics
The good news is, you can set up an automatic Forex grid trading system which can remove the pain of manually placing trades. The great thing about a grid trading system is that it helps you get a return on your investment even in volatile market conditions. This way, it eliminates the need to predict the market's direction, making the choice quite simple.
The trader just has to know that the market is going to make a move, and the strategy will take care of the rest. It is important to use a broker with no trading commissions. These conditions will limit the maximum levels of the Forex grid trading system. Another great thing about the grid strategy for Forex is that it works in trending markets as well. However, the downside is that the trader always has to keep the available margin in mind – especially, in trending markets.
Defining the Forex Grid Trading Strategy
The Forex grid trading strategy is a technique that seeks to make profit on the natural movement of the market by positioning buy stop orders and sell stop orders. This is performed on a predefined market distance (referred as to a leg), with a preset size of take-profit and no stop-loss. This kind of trading removes the variable of knowing the direction of the price move. However, this also means very complicated money management conditions. Moreover, it increases the margin of error, because you will have to manage multiple trades at the same time.
Implementing the Forex Grid System
First of all, decide on a starting point. For example, take a look at the current price of 1.11860 as featured in the chart below: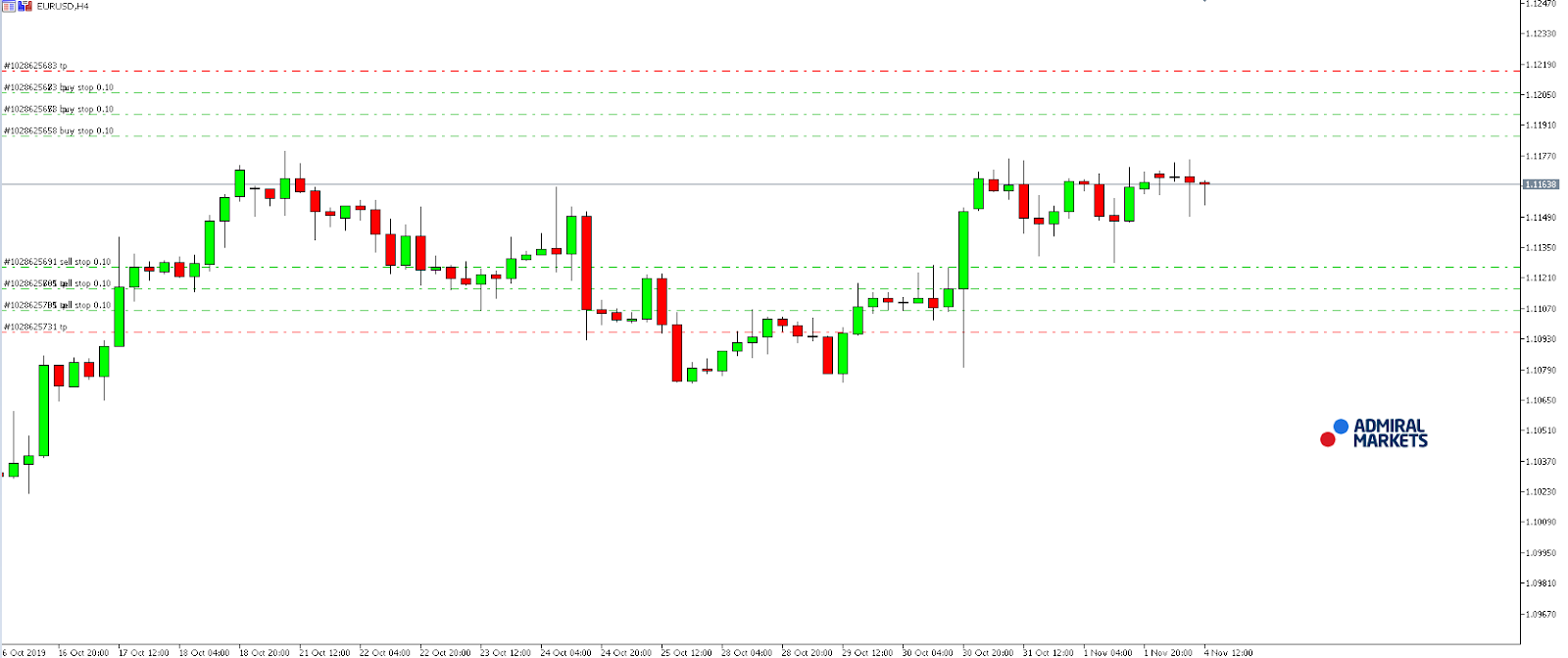 Source: Admiral Markets Forex Demo Account - EURUSD 4-hour chart - Data range: 16 Oct, 2019 – 04 Nov, 2019 - Please Note: Past performance does not indicate future results, nor is it a reliable indicator of future performance.
Next, choose the number of grid Forex strategy levels – in this example, there are three levels. Now, place three buy stop orders above the current price starting at 1.1186, and three sell stop orders below it, starting at 1.1126. Note that there are other ways to plot the grid's leg – pivot points, chart formation, support and resistances, etc. Furthermore, the number of levels is not restricted. You can change both the number of trades and the size. However, use caution when making changes, as the possible size of the loss can increase with each one.
| | | | |
| --- | --- | --- | --- |
| Level | Order type | Entry | Take Profit |
| 1 | Buy Stop Order | 1.1186 | 1.1196 |
| 2 | Buy Stop Order | 1.1196 | 1.1206 |
| 3 | Buy Stop Order | 1.1206 | 1.1216 |
| -1 | Sell Stop Order | 1.1126 | 1.1116 |
| -2 | Sell Stop Order | 1.1116 | 1.1106 |
| -3 | Sell Stop Order | 1.1106 | 1.1096 |

After placing the orders, one of three scenarios can occur. Two of them are favourable for the trader. The first one is when the price moves in one direction (either up or down) – this liquidates all the trades in that direction and hits all your take-profits. Then, you simply close the remaining Stop Orders. The second scenario is that it opens all the orders and hits all the take-profits. The third, unfavourable trading scenario, involves the price opening some positions without hitting your Take-profit and retreating into the opposite direction. This, in turn, leaves one position open and accumulates loss.

Scenario 1
Scenario 2
Scenario 3
The third scenario illustrates the biggest drawback of the Forex grid system strategy, nd also highlights an important general point for traders. Namely, you must possess the ability to psychologically deal with losing positions. Being a good trader has less to do with overall profitability, and more with the ability to learn. A good trader can always turn a loss into a positive learning experience.
Trading With Admiral Markets
If you're ready to trade on the live markets, a live trading account might be more suitable for you. Admiral Markets offers professional traders the ability to trade with 80+ currencies, with access to a range of Forex majors, Forex minors, and exotic currency pairs. To open your live account, click the banner below!

About Admiral Markets
Admiral Markets is a multi-award winning, globally regulated Forex and CFD broker, offering trading on over 8,000 financial instruments via the world's most popular trading platforms: MetaTrader 4 and MetaTrader 5. Start trading today!
This material does not contain and should not be construed as containing investment advice, investment recommendations, an offer of or solicitation for any transactions in financial instruments. Please note that such trading analysis is not a reliable indicator for any current or future performance, as circumstances may change over time. Before making any investment decisions, you should seek advice from independent financial advisors to ensure you understand the risks.