Let's start with the facts.
It's a fact that tools help increase productivity and improve performance. For centuries, the human race has been evolving through the use of tools.
For example, 100 years ago, one would go to great lengths to get in touch with another person – also a fact. Today, one can easily communicate from the comfort of one's home using a simple tool – the smartphone.
Tools are indispensable in trading. Admiral Markets supplies traders with the most advanced trading platform – explore the great possibilities of MetaTrader 4 – but there are many more powerful tools and features you can use for an enhanced trading experience.
Before we begin, please mind that we'll not be covering any type of custom Expert Advisor (EA) freely available online. If you are interested in the subject, feel free to start with the best MT4 EAs.
That being said, let's take a closer look at the best Forex tools to find the most suitable option for you!
Forex Calendar: Keep Up with the 2018 News Affecting the FX Market
The Forex Calendar is a free tool mostly designed for traders who want to keep up with the fundamental updates on the FX market. However, it may come in handy to all traders
The Forex Calendar lists upcoming fundamental events, usually releases of economic news, listed along with their previous and expected values. As soon as the news is released (sometimes, with a slight delay), the Calendar is updated with proper values, and the market starts to experience new moves.
The most common – and perhaps one of the most influential regular events – is the release of US non-farm payrolls, also known as NFP. The changes in its value occur on a monthly basis, and a lot of people will make use of the Calendar as their main Forex trading tool during such events.
Autochartist: Most Advanced Pattern Recognition Software

Do you find it difficult to identify patterns when it comes to market analysis? Do you think pattern recognition is useful? Autochartist is a tool trusted by thousands of traders that helps you identify patterns on your chart. It actually comes in a suite of FX trading tools available as a web app and as a MetaTrader 4 plugin.
Autochartist assists many traders in spotting such things as raising wedges, head, shoulders, and other items from graphical analysis. It is a particularly useful tool for Forex beginners as it does the job for you and helps you to learn patterns.
Next up, we would like to introduce a set of tools available exclusively to Admiral Markets' clients.

Upgrade to the Powerful MetaTrader Supreme Edition
With MetaTrader Supreme Edition, you will be able to enjoy a much more enhanced version of MT4 & MT5. The newest plugin will allow you to access a wide range of useful features.
If you want to know more, do not miss the video below to learn how to take your trading to the next level!
Trading Terminal: Discover the Best FX Tools in One
This is a perfect tool for scalpers, or traders who like to keep an eye on multiple assets simultaneously. Using Trading Terminal, you will be able to trade multiple currency pairs from the same window, working out your stop-loss and take-profit strategies as well as trailing stop placements. The pros of Trading Terminal don't end there as it comes with a whole set of the best tools for Forex trading.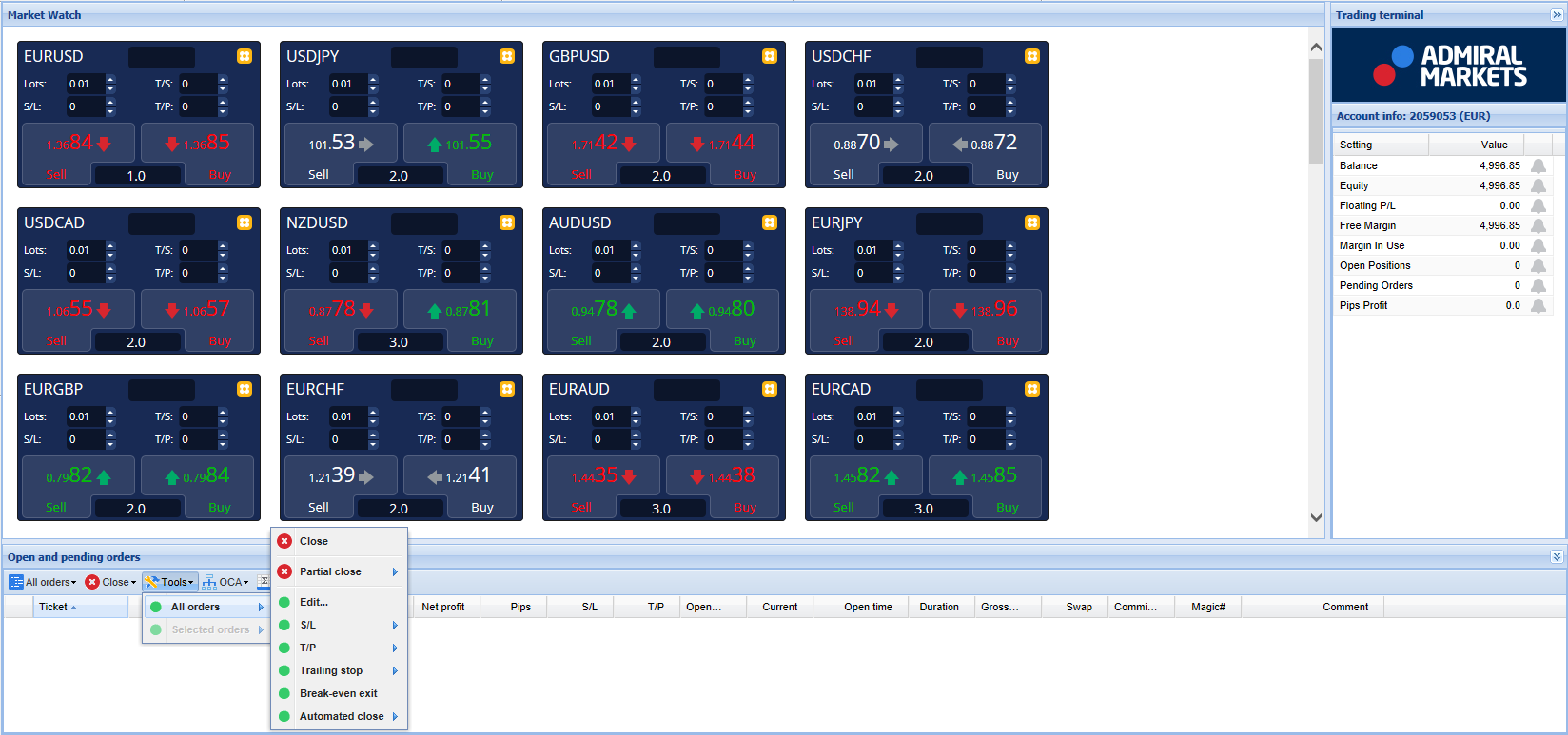 What is more, Trading Terminal enables OCO (One-Cancels-the-Other) orders that can be very useful for traders looking into breakouts or trading major news releases. Employing an order of this type, the trader sets two price levels at which orders will be executed.
Once the first order is filled, the second one is cancelled automatically. Imagine the current EUR/USD rate being at 1.10010, and NFP about to be released. The trader cannot predict the result, yet they might believe that the price should move at least 50 pips, and the movement direction depends entirely on whether the results are above or below the expected.
The trader may set an OCO order at 1.0015 Long and at 1.0005 Short. This way, once the prices begin to move, the order will be quickly executed, no matter what direction the trend moves in. This is no doubt one of the most useful FX tools for traders who prefer to trade news releases.
Apart from this, Trading Terminal comes with a number of other exciting features such as setting your stop-losses and take-profits in US Dollars, and much more.
Mini Terminal
Mini Terminal comes with Trading Terminal, so if you're familiar with the latter, learning the former should not be a problem. Mini Terminal must be one of the handiest currency trading tools as it enhances the default 1-click-trading manager that comes with MetaTrader 4. Instead of just being able to purchase and sell currencies with one click, this tool lets you preset stop-losses and take-profits.
This tool is essential for day traders, especially scalpers.
Excel Trader: The Best of MS Excel and Trading Tools
Excel Trader may not be suitable for everyone, yet people with a good knowledge of MS Excel will certainly appreciate this feature. As you know, MS Excel is a great software when it comes to numbers. In turn, the world of trading offers you one of the best currency trading tools that allows you to connect Excel to your trading platform. In other words, you can get prices directly in Excel, use algorithms and functions to build charts, analyse them, and implement formulas.
Market Sentiment
Market Sentiment is a useful feature that is particularly handy for positional traders. It lets you understand the current positions of traders aggregated into one dashboard.
This way, you can see how many traders are holding short and how many, long positions. With the help of Market Sentiment, you can double-check whether you want to join the trade, plus what your chances are if you decide to go against the crowd.
Correlation Matrix
Whenever you are looking up certain trading strategies, it is often advised to avoid trading currencies with a similar level of correlation.
What is correlation in currency trading? It is the relation of price changes in one currency to another. With the help of the correlation matrix, you can now preview the correlations of trading instruments plotted over various time frames. This can certainly be the best Forex tool for beginners as it helps avoid locking your margin into currency pairs that are expected to perform in the same way.
Never Miss an Update Again
Although notifications are not strictly free FX tools, as SMS notifications would require you to purchase SMS credits, these are still a great way to improve your trading. You can set notifications to your phone or email for almost everything you want. Once a stop-loss or a take-profit level has been hit, you will get notified.
In many instances, notifications come in handy as they make sure you don't miss important updates on your trading account. They are also extremely useful for technical traders who cannot always keep an eye on the charts.
Wrapped Up
This wraps up our review of the most popular Forex tools to maximise your trading experience in 2018.
There are plenty of tools for trading available on the market, yet we've highlighted the most useful and trusted features out there. To trade Forex and CFDs on indices, stocks, and futures on excellent terms in the MetaTrader platform, open our live account!


Happy trading!
---