What Are the Best Currency Pairs to Trade on the Forex Market?
November 27, 2020 11:30 UTC
Name a market that never closes during the working week, has the largest volume of the world's business, with people from all countries of the world participating every day. Yes, you guessed right – the Foreign Exchange Market (Forex), where all trade is between the currency pairs from two different countries. The Forex market has arisen from the need for a system to facilitate the exchange of different currencies from around the world in order to trade.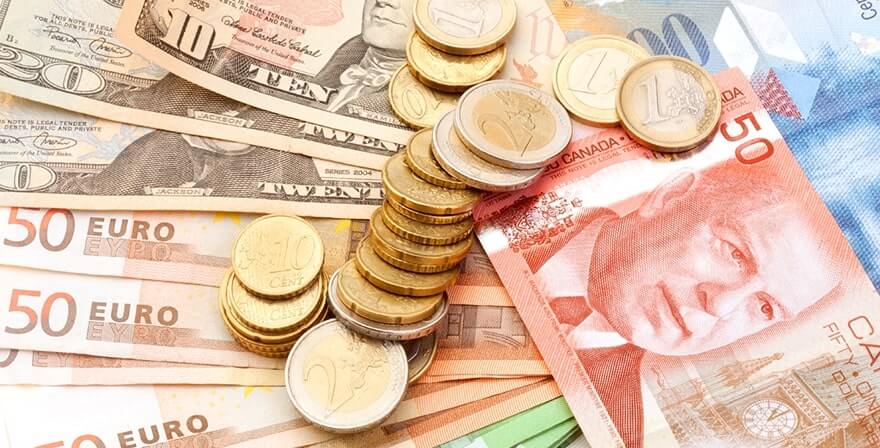 The famous phrase 'money never sleeps' – coined by the well known Hollywood movie 'Wall Street' – sums up the foreign currency exchange market perfectly. The Forex market is open for trading from 22:00 GMT on Sundays until 22:00 GMT on Fridays. Therefore, during the week you are able to trade the Forex market for 24 hours a day!
When you are a beginner Forex trader, you may find yourself overwhelmed and confused by the sheer number of currencies and other instruments available to trade through the MetaTrader 5 trading terminal. What are the best currency pairs to trade? The answer is not straightforward, as it varies with each individual trader. You need to take the time to analyse different pairs against your own trading strategy and, in doing do, determine which are the best currencies to trade on your own Forex account.
This article will briefly describe what currency pairs are, and will assist you with identifying the best Forex pairs to trade. It will also explain what Forex majors are and whether they will work for you.
What Is Forex Trading?
Forex trading – or foreign exchange trading – is all about buying and selling currencies in pairs. In order to be able to buy and sell currencies effectively, you need to have information about how much each currency in a pair are worth in relation to each other. This relationship is what defines a currency pair. A currency pair consists of two currency abbreviations, followed by the value of the "base" currency (the first listed) which is expressed in the "quote" currency (the second listed).
There is always an international code that specifies the setup of Forex pairs. For example, a quote of EURUSD 1.23 means that one Euro is worth USD$1.23. Here, the base currency is the Euro (EUR), and the counter currency is the US dollar. If you would like to learn more about how to read currency pairs, why not check out our article 'Understanding and Reading Forex Quotes' which explores the topic in greater detail.
What Are the Forex Major Pairs?
Not surprisingly, the most dominant and strongest currency, as well as the most widely traded, is the US dollar. The reason for this is simply the sheer size of the US economy, which is the world's largest. The US dollar is the preferred reference in most currency exchange transactions worldwide and also the dominant reserve currency of the world.
There is no set list when it comes to the major currency pairs, but when people talk of the majors, they are usually referring to those pairs which are most actively traded and, therefore, most liquid. However, this does not necessarily mean that they are the 'best' to trade. These majors generally include:
The values of these major currencies keep fluctuating according to each other, as trade volumes between the two countries change every minute. These pairs are naturally associated with countries that have greater financial power, and the countries with a high volume of trade conducted worldwide. Generally, such pairs are the most volatile ones, meaning that the price fluctuations that occur during the day can be the largest.
Does this mean that they are the best ones to trade? Not necessarily, as traders can either lose, or make money on the fluctuations. The aforementioned pairs tend to have the best trading conditions, as their spreads tend to be lower, yet this still does not necessarily mean that the majors are the best Forex pairs to trade for every trader.
Interested in learning more about trading? Why not register for one of our trading webinars? These live sessions, which are conducted by professional traders, take place three times a week and are absolutely free! Click the banner below to sign up today:
Which Are the Best Currency Pairs to Trade?
With over 200 countries in the world, you can find more than a handful of currencies with which to trade. However, these may not have the potential to deliver the best results to traders. So what is the best currency pair to trade? What do most traders trade? Which is worth trading and why? Keep on reading this article to find out the answers to these questions and more!
Before analysing the best trading pairs, it is better to enhance our knowledge on the most popular currencies that can be found in the world of Forex trading. They include:
US Dollar (USD)
Euro (EUR)
Australian Dollar (AUD)
Swiss Franc (CHF)
Canadian Dollar (CAD)
Japanese Yen (JPY)
British Pound (GBP)
Out of these currencies you can find a few popular currency pairs. If you want to achieve success in Forex trading, you need to have an in depth understanding of the different Forex pairs that you use to trade. If you select any of the options which we are going to discuss below, you will make trading much simpler for yourself, as lots of expert analytical advice and data is available on them.
Pair Analysis
Let's take a detailed look at some of the options when it comes to Forex trading:
EUR/USD

This can be considered the most popular Forex pair. In addition, it has the lowest spread among modern world Forex brokers. It is associated with basic technical analysis. The best thing about EUR/USD is that it is not too volatile. Therefore, if you are a trader who does not like being in the position of taking too much risk, this might be one of your best options for trading Forex. Furthermore, given its popularity, you can find a lot of information online about the EUR/USD, which can help prevent you from making avoidable mistakes.

GBP/USD

Profitable pips and possible large jumps have contributed a lot towards the popularity of the GBP/USD. However, you need to keep in mind that higher profits are accompanied by greater risk. This is a currency pair that can be grouped into the volatile category. However, many Forex traders prefer to select this as their favourite to trade, since they are able to find plenty of market analysis information online to help.

USD/JPY

This is another popular currency pair that can be seen regularly in the world of Forex trading. It is associated with low spreads, and you can usually follow a smooth trend in comparison with other pairs. It also has the potential to deliver exciting, profitable opportunities for traders.
All the Forex majors that can be found are equipped with tight spreads. However, because of its volatility, this does not actually apply to the GBP/USD. It is perhaps better to avoid those pairs which have high spreads. The recommended spread by the trading experts tends to be around 0-3 pips. When it exceeds 6 pips, trading may become too expensive, which can lead towards greater losses.
Still, it doesn't mean that you should totally avoid anything which has a high spread. The best way to trade sensibly and effectively in this regard would be to exercise proper risk management within your trading in order to help minimise the risks of trading.
Minor and Exotic Forex Pairs
As we saw above, the major Forex pairs consist of the most heavily traded currencies and all include the US dollar. Minor Forex pairs, also known as cross currency pairs, are pairs which do not include the US dollar. These pairs have wider spreads and less liquidity than the major pairs, however, they still have sufficient liquidity for trading. Examples of minor pairs include:
Then there are the exotic currency pairs, which include the currencies from emerging economies. Exotic pairs are the least liquid and also tend to have the largest spreads. Examples of these exotic pairs include:
Technical and Fundamental Analysis
Just like any other skill, becoming successful at trading takes time and plenty of practice. In order to master this skill you need to have a lot of patience, discipline, but most of all you need to be passionate about the industry. Successful trading starts with having a trading plan that is based on either Technical or Fundamental analysis.
Technical analysis looks at price charts of a financial instrument, using technical indicators or price action in order to attempt to predict future movements in price.
Whereas, fundamental analysis attempts to predict price movements based on macro economical data and news releases.
There are many different ways you can learn currency trading online as there are a lot of different education providers. To start learning for free with Admiral Markets we suggest to head over to our "Forex Strategy" section in our Articles and Tutorials education portal to learn different trading strategies.
The Importance of a Reliable Trading Platform
There are many factors that can make or break you as a trader, such as having a clearly written trading plan and following it. This indicates that you know exactly what your entry and exit points are and that you know what you are looking for. Trading involves a lot of psychology and can be a lot harder to manage without a proper plan. The key is to minimise the psychological effect that our emotions might have on our performance.
Apart from the mental side, it is very important to have a broker and platform that you can trust. The MetaTrader trading platforms are widely regarding as some of the best Forex trading platforms. These platforms are the most used in the world and come equipped with a whole range of useful technical indicators to help with chart analysis.
Admiral Markets offers free access to both the MetaTrader trading platforms. Aside from this we offer other useful tools, such as the Trading Calculator. Since risk management is a key factor in trading and it's nearly impossible to calculate the correct lot size since every pair has different pip value, the trading calculator can be a very important tool for a trader.
Conclusion
Generally speaking the best pair for you to trade is the one that you are most knowledgeable about. A useful way to keep track of economic announcements which might affect the value of a currency, is with our Forex calendar, which also lists predictions and forecasts concerning these announcements.
The dynamics of Forex trading is an interesting subject to study. As globalisation becomes a bigger, more pressing issue for most countries around the world, the fate of their currencies is closely interconnected. Make sure you study the foreign exchange market extensively before making an investment.
There are many Forex pairs available for trading and it is highly recommended to try trading most of them before you choose a particular one to stick with. As Forex trading is risky, you should try it first on a Demo account with virtual currency so you can practice before risking your own capital.
Trade Forex With Admiral Markets
If you are feeling inspired to start trading Forex, Admiral Markets offers traders the ability to trade on the Forex market directly and via CFDs with 80+ currencies, including Forex majors, Forex minors, exotic pairs and more! Open your live trading account today by clicking the banner below!
About Admiral Markets
Admiral Markets is a multi-award winning, globally regulated Forex and CFD broker, offering trading on over 8,000 financial instruments via the world's most popular trading platforms: MetaTrader 4 and MetaTrader 5. Start trading today!
This material does not contain and should not be construed as containing investment advice, investment recommendations, an offer of or solicitation for any transactions in financial instruments. Please note that such trading analysis is not a reliable indicator for any current or future performance, as circumstances may change over time. Before making any investment decisions, you should seek advice from independent financial advisors to ensure you understand the risks.