What is Index Trading?
Reading time: 10 minutes
Did you know that the world's most popular stock indices can be traded online? The Dow Jones (DJIA), S&P 500, DAX 30, FTSE 100, plus many more indices can in fact be sold and bought for intra-day, swing, and long-term trading. This article reviews how indices represent the market, how index CFDs (Contracts For Differences) work, and the advantages of trading indices versus stocks.
What Is Index Trading?
Most traders know the names and abbreviations of the main global stock indices, but perhaps not everyone is aware that these they can also be traded via CFDs. In fact, stock index CFDs can not only be analysed, but they can also be bought and sold in a similar way to how stocks are traded.
What is a stock Index?
The stock index itself represents the value of a group of stocks from one country, and shows the overall, current, and historic performance of that particular stock index. Economists, politicians, and analysts can use stock indices to understand how well the financial markets and companies in those markets are performing.
What are examples of Indices?
The index shows the performance of different entities, for instance:
By Country: like the German Index DAX 30.
By Group: of stocks within one country, like the S&P 500 from the US, which includes a list of 500 companies.
By Sector: like the NASDAQ index, which represents stocks (and companies) from the technology sector.
As an example: if the NASDAQ index goes up or down, it offers information about the overall performance of all the stocks within the NASDAQ. When the price of the stock index increase, then the overall value of the index moves higher too. The same is valid for when the stock index is moving down, which means that the overall value of the index is decreasing.
The direction of the stock index, however, does not indicate that all the individual stock prices of the index are moving up or down. The average of all the stocks may be becoming more valuable, but while some stocks are going up, others could be moving down. The same is valid for a bearish day on the stock index: more stocks or sectors are likely to be bearish, but some might be bullish. Some stock indices are however, more popular than others. Let's now take a look at the most commonly traded stock index CFDs:
Which Indices Are Popular?
There are stock indices all around the globe, but some are certainly traded on more than others. There are stock indices within the US, Europe, and in Asia.
Let's review them:
The popular US stock indices:

DJ 30: Dow Jones Industrial Average
S&P 500: Standard and Poor's Index
NQ 100: NASDAQ
The popular European stock indices:
DAX 30: from Germany
FTSE 100: from the UK
CAC 40: from France
STOXX 50: Euro STOXX
The popular Asian stock indices:
Nikkei (JP) 225: from Japan
HSI 50 from Hong Kong
There are many more stock indices in the world such as the IT 40 from Italy, the ES 35 from Spain, the AEX 25 from the Netherlands, and the ASX 200 from Australia, but the nine indices listed above are are often considered to be the main, major ones. All of these stock indices have seen their fair share of price movements, both up and down.
These up and down cycles repeat throughout history, and at times can be quite strong. Let's take the Dow Jones Index (DJ 30) as an example. Throughout its history, this stock index has been moving up regularly and gradually, but there have been years and decades where it has experienced major booms, together with days, months and years with large drops.
Let's review some of the key moments for the stock markets:
Wall Street Crash of 1929: the crash was created due to the speculative bubble in stocks. It lasted for four years.
Black Monday in 1987: this crash occurred on one day and 22.61% was lost, and this is still the largest recorded drop on a single trading day. There were no clear reasons established for what caused the sudden crash, but program trading could have been a factor.
Dot-com Bubble in 2000: technology stock prices were moving up very quickly between 1995 to 2000, and the speculative bubble eventually burst in 2000.
The 'Great Recession' in 2008 (Or Global Financial Downturn): the financial system in the US was crumbling as banks, and other financial institutions felt the problems created by bad debts within the housing market, which were amplified by derivatives trades.
The rise of the market since 2008: the stock markets have seen a remarkable rise ever since the Great Recession, marking a large bull run.
The graph below shows the market drop during 2008 (point D), and the rise in the next decade (point E). The strong bull market has been moving up for almost 10 years now, and recently made a new high, which triggered a sell off, whereby the Dow dropped 546 points in one day, and 1,378 points over 2 days.
There are three potential reasons why the market could be reacting in such a way:

Because Investors are concerned about rising interest rates.
Because bonds are offering a more competitive rate in comparison to stocks.
Because the borrowing costs for companies are increasing.
Depicted: Admiral Markets MetaTrader 5 (MT5) with Supreme Edition Add-on - Dow Jones - Daily chart - Disclaimer: Charts for financial instruments in this article are for illustrative purposes and does not constitute trading advice or a solicitation to buy or sell any financial instrument provided by Admiral Markets (CFDs, ETFs, Shares). Past performance is not necessarily an indication of future performance.

Why Should Traders Trade On Indices Rather Than Stocks?
The information from a stock index and its chart can be used for different reasons. Let's summarise the main ways traders can use price information from a stock index chart:

For analytical purposes, to understand the trend and the market patterns of the index.
For trading the CFD for the stock inde
For hedging of other trade setups (although more experience is needed)
Stock index CFDs also offer other benefits such as:
Not being exposed to the risks connected to an individual stock.
CFDs can be traded on margin (leverage), which means that you only need a small percentage of trading capital to open a trade.
CFDs can be traded via long or short positions.
Stock index CFDs offer long trading hours.
Please keep in mind that you, as a trader, are not actually trading on the NASDAQ specifically, or any stock index, but rather, the CFD of the index. Trading stock index CFDs is popular among individual and institutional traders alike, because the index offers traders steady price volatility, volume, and a way to participate in the price movement of the individual stocks via a single CFD.
It is also better to take a short position on a CFD (both stock CFDs and index CFDs) than it is to short a single individual share, as risk management parameters such as the stop loss are simple to implement within CFD trading. Limiting the risk on a trade setup is an important risk management tool.
Advantages of CFDs vs. Options or Futures
CFD trading offers traders a simple way of trading the financial markets. Traders can simply enter a long or short position, and close that position as they wish (via a stop-loss, a take profit level or a market exit). Futures and options trading are more complicated than index CFDs, although all of them are financial instruments and derivatives.
But why is this? First of all, futures and options require traders to work with expiry dates. Index options have different styles, such as European and American styles, which determine when the options can be exercised. European style options can only be exercised upon expiration, whereas American options can be exercised at any time.
Secondly, the simplest option strategies revolve around buying a call or put on the index, but more advanced strategies can become complex. These strategies are more complicated than simply trading up and down price movements, based on strategies that analyse charts and use technical analysis.
CFD trading is a simple process when compared with futures and options trading, and the learning curve is shorter. Traders can improve their skills and knowledge via online courses such as the Forex 101 course, and via articles & tutorials that are available online. There are also online webinars available, that explain the basics of trading, trading strategies, and which explore how to use indicators within professional trading.
The Best Platform For Forex And CFD Trading
A good option for trading Forex and CFD instruments online is the MetaTrader Supreme Edition (SE) plugin for MetaTrader 4 and MetaTrader 5, which offers a wide range of financial instruments including Forex, CFDs, CFDs on commodities, and CFDs on stock indices, and much more. Some brokers even go a step further and offer their own customized tools on top of the standard features and items offered by MT4 and MT5.
The SE offers a wide range of extras including:
Mini terminal
Trade terminal
Global opinion
Indicator package offering pivot points, renko and the keltner channel
Tick chart trader
Trading simulator
Mini charts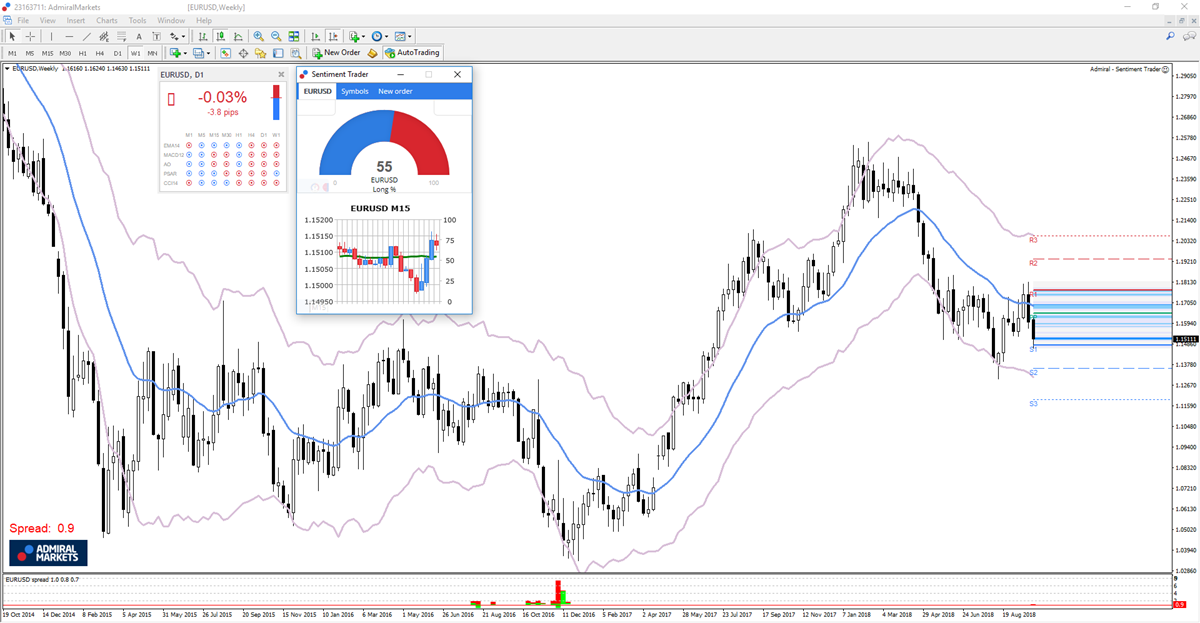 Depicted: Admiral Markets MT5 with MT5SE Add-on - EURUSD Weekly chart - Disclaimer: Charts for financial instruments in this article are for illustrative purposes and does not constitute trading advice or a solicitation to buy or sell any financial instrument provided by Admiral Markets (CFDs, ETFs, Shares). Past performance is not necessarily an indication of future performance.

Trade With Admiral Markets
Admiral Markets offers professional traders the ability to significantly enhance their trading experience by boosting the MetaTrader platform with MetaTrader Supreme Edition. Gain access to excellent additional features such as the correlation matrix - which enables you to compare and contrast various currency pairs, together with other fantastic tools, like the Mini Trader window, which allows you to trade in a smaller window while you continue with your day to day things. Get all of this and much more by clicking the banner below and starting your FREE download!
This material does not contain and should not be construed as containing investment advice, investment recommendations, an offer of or solicitation for any transactions in financial instruments. Please note that such trading analysis is not a reliable indicator for any current or future performance, as circumstances may change over time. Before making any investment decisions, you should seek advice from independent financial advisors to ensure you understand the risks.