U.S. dollar continued trading in consolidation mode
June 14, 2021 15:00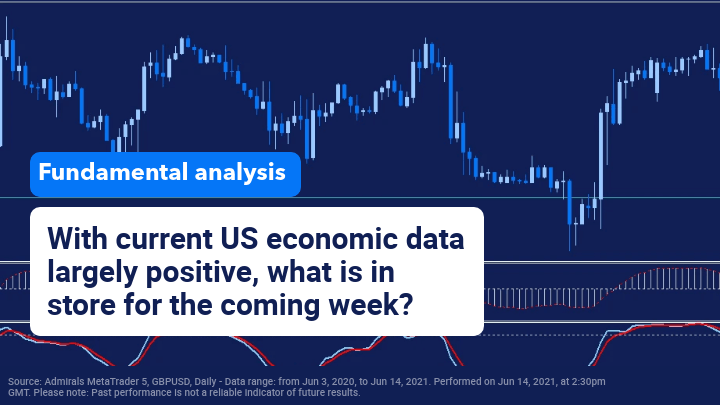 Last week the global reserve currency maintained its consolidation sentiment and marked minor changes in its values. Only Friday's trading session was more volatile, the U.S. dollar appreciated to a 50-day moving average on the daily chart, but overall the greenback still remained within last month's trading range.
USD
Economic data in the U.S. remained positive and strong, indicating further accelerating activity. The most attention was directed towards the inflation data for May, which showed annual consumer price increase of 5.0%, the highest rate since 2008. This tendency is mostly driven by rapidly appreciating commodity prices, including oil, steel, and lumber, among others. Meanwhile, the commodities remain in a strong bullish trend with no promising signs of any larger pause in sight. Moreover, the labour market data announced within the JOLTS data, along with new open work positions, increased to 9.28 million, reaching the highest level of the last 20 years. This suggests a rapid opening of the economy and its increasing activity, but employees remain reluctant to find a job as the government still pays lucrative unemployment benefits. Unemployment claims decrease from 0.39 to 0.38 million per week.
The coronavirus situation marked further improvements on a global scale, as weekly average of new cases dropped from 446 to 386 thousand per day. On the other hand, data in the U.S. showed a loss of positive impetus, as weekly average of new cases remained stable around 15 thousand. Number of vaccines administered increased from 299 to 307 and the change was 8 million, slightly more than a previous week. The total number of citizens, who have received at least one dose, increased from 51.1% 52.0 and marked a 0.9% advancement.
Euro
The major currency pair EUR/USD started the week on a positive note and on Wednesday was up to 1.220 level, but later the tendency changed and the pair slipped down to 1.210, representing the lowest point since mid-May. Economic data in the Old Continent was strong: ZEW economic sentiment index was 81.3 in Europe and 79.8 points in Germany, both around a cyclical high, but slightly below last's months record. Preliminary Europe's first quarter GDP change was -1.3% compared with the same period a year ago and -0.3% compared with previous quarter. Also, a lot of attention was drawn to a meeting of the European Central Bank, where Christine Lagarde mentioned that current inflation is expected to be transitory and in the longer term is highly likely to be below the 2% target. The key interest rate and stimulus programme were unchanged with no time guidance for potential dates when to expect any changes. EUR/USD pair ended trading week with a -0.5% drop.
JPY
The most important Asian currency pair USD/JPY continued its consolidation around 109.5 level. Economic data was scarce and investors were focused only on producer price index, which showed a 4.9% annual increase. It is very likely that industrial companies will push forward higher prices to consumers, in order to maintain its profitability margin. The USD/JPY pair closed the trading week up by 0.2%.
GBP
Last week the British pound and U.S. dollar currency pair remained in a consolidation range between the 1.41 and 1.42 levels. Economic data was mainly centred around industrial production in April, which has increased by 27.5% on an annual basis. However, it mainly reflected a low base effect, through the first wave of coronavirus and lockdowns. GBP/USD ended trading week with a -0.4% depreciation.
Economic Events
This week will start with industrial production data in Japan and Europe. On Tuesday, South Korea's export figures will be announced, along with the U.K. labour market data, German actual inflation for May and the retail sales of the U.S. On Wednesday, investors will focus on Japan's exports, inflation in the U.K., and a press conference about decisions made in a meeting of the U.S. Federal Reserve. On Thursday, the spotlight will be on the actual European inflation data, while on Friday a meeting of the central bank of Japan and retail sales data in the U.K will be the focus.
Admiral Markets sentiment data shows that traders have 71% long positions in EUR/USD pair, 39% in USD/JPY and 64% in GBP/USD. This data can be interpreted as an opposite indicator and would suggest depreciation of EUR/USD and GBP/USD, while USD/JPY may appreciate. Market sentiment data should be used together with fundamental and technical analysis.
Sources: bloomberg.com, reuters.com, Admiral Markets MT4 Supreme Edition, investing.com

INFORMATION ABOUT ANALYTICAL MATERIALS:
The given data provides additional information regarding all analysis, estimates, prognosis, forecasts, market reviews, weekly outlooks or other similar assessments or information (hereinafter "Analysis") published on the websites of Admiral Markets investment firms operating under the Admiral Markets trademark (hereinafter "Admiral Markets") Before making any investment decisions please pay close attention to the following:
This is a marketing communication. The content is published for informative purposes only and is in no way to be construed as investment advice or recommendation. It has not been prepared in accordance with legal requirements designed to promote the independence of investment research, and that it is not subject to any prohibition on dealing ahead of the dissemination of investment research.
Any investment decision is made by each client alone whereas Admiral Markets shall not be responsible for any loss or damage arising from any such decision, whether or not based on the content.
With view to protecting the interests of our clients and the objectivity of the Analysis, Admiral Markets has established relevant internal procedures for prevention and management of conflicts of interest.
The Analysis is prepared by an independent analyst, Skirmantas Paulavicius (analyst), (hereinafter "Author") based on their personal estimations.
Whilst every reasonable effort is taken to ensure that all sources of the content are reliable and that all information is presented, as much as possible, in an understandable, timely, precise and complete manner, Admiral Markets does not guarantee the accuracy or completeness of any information contained within the Analysis.
Any kind of past or modeled performance of financial instruments indicated within the content should not be construed as an express or implied promise, guarantee or implication by Admiral Markets for any future performance. The value of the financial instrument may both increase and decrease and the preservation of the asset value is not guaranteed.
Leveraged products (including contracts for difference) are speculative in nature and may result in losses or profit. Before you start trading, please ensure that you fully understand the risks involved.