Admiral Markets Card
Transform your finances with the groundbreaking new Admiral Markets debit card.
GET STARTED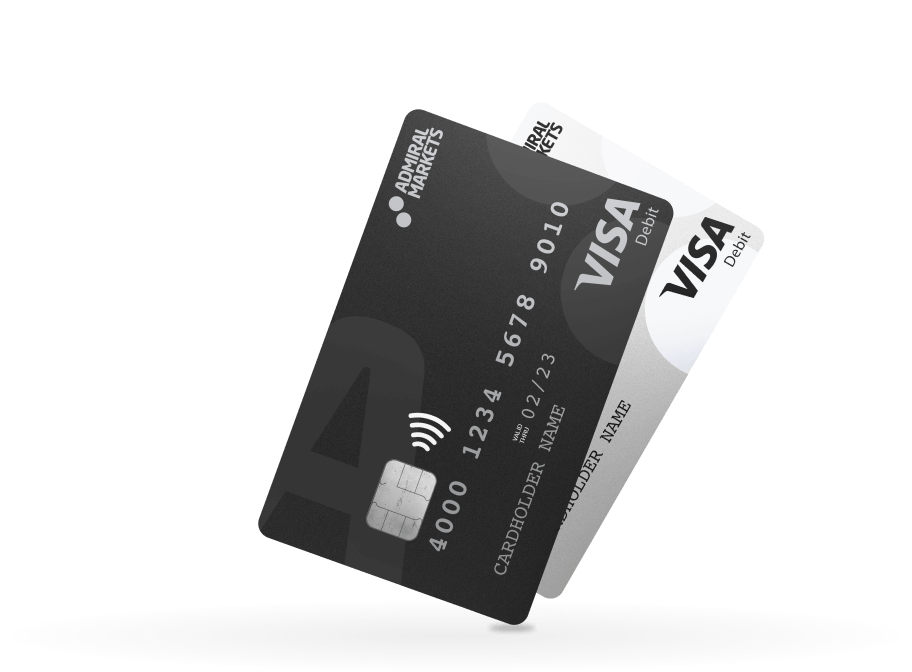 Why use the Admiral Markets Card?
Global Access
Use your debit VISA card to spend online and in shops.
One Account
Access your trading profits and funds instantly - invest, spend, and manage funds from one account.
Favourable Rates
Transfer money at interbank exchange rates - no unnecessary banking costs!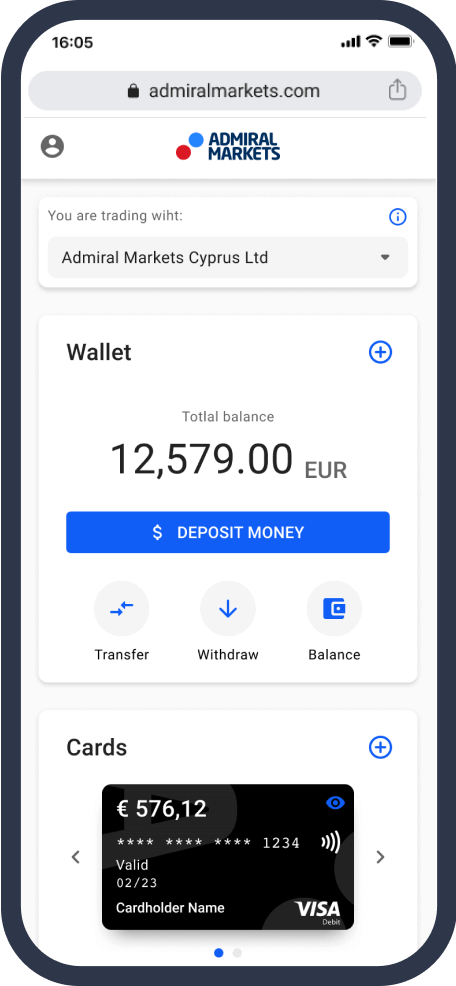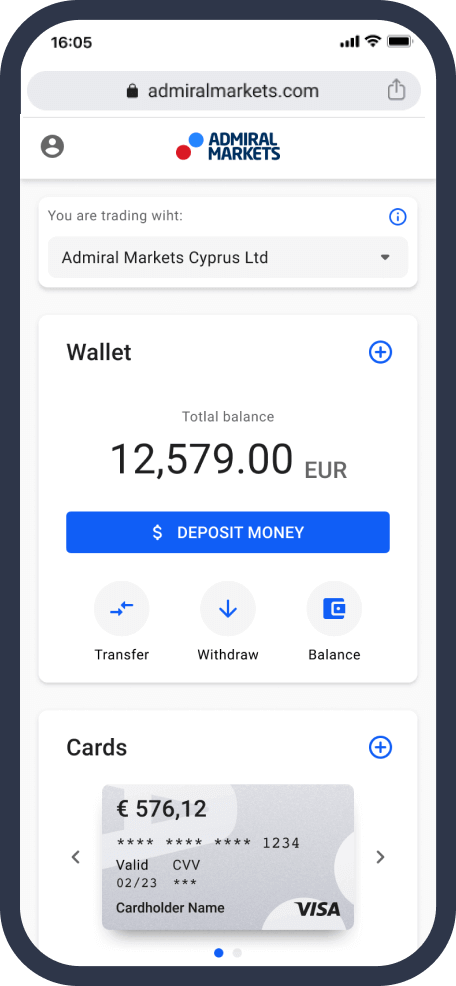 One card, one account — infinite possibilities
Manage Funds
One account for all your funds. Trading returns, deposits and card transactions viewable and easy to manage all online.
Invest
Put your funds to work on more than 3,000+ financial instruments. Admiral Markets is your connection to the world of trading and investing.
Spend
Use your physical or virtual Admiral Markets Card online and in shops to purchase what you want safely & securely - anywhere, anytime.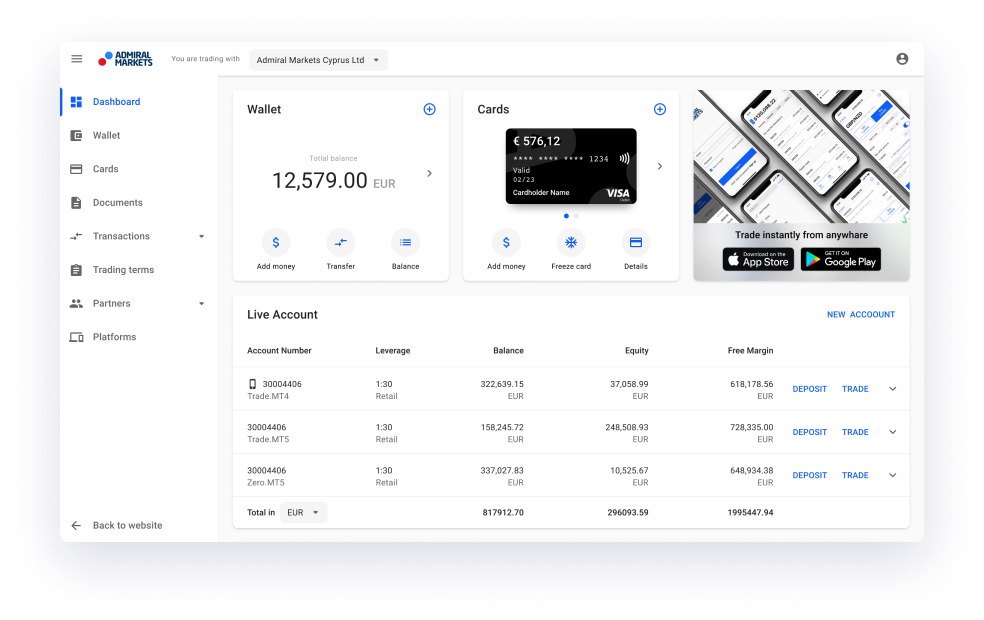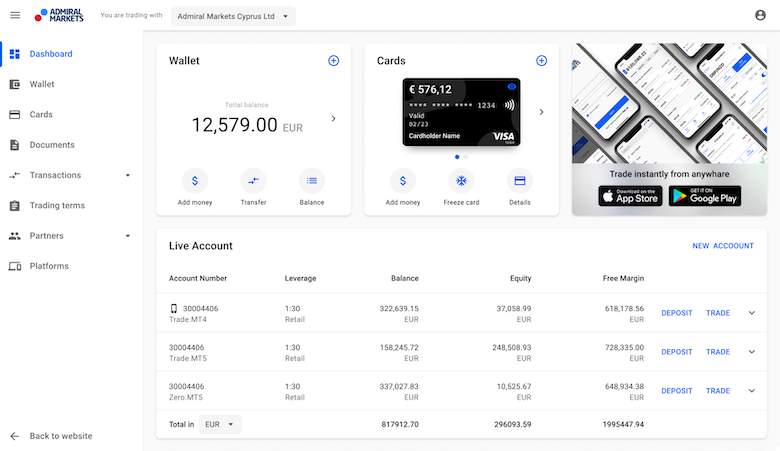 Which one to choose?
Physical and virtual cards are available to make purchasing easy
Zero Commissions
No service fees, zero commissions and no costs for set-up or card issuance.
Instantly Available
As a registered Admiral Markets client you can apply for the Admiral Markets Card at the click of a button.
Widely Accepted
Spend on any site where VISA is accepted - use at millions of online merchants.
Available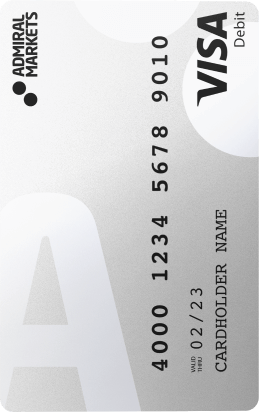 Cost Transparency
Transparent fees to put your mind at ease.
Worldwide Withdrawals
Access your funds at millions of ATMs around the world.
Widely Accepted
Spend anywhere in the world (and online) where VISA is accepted.
Coming soon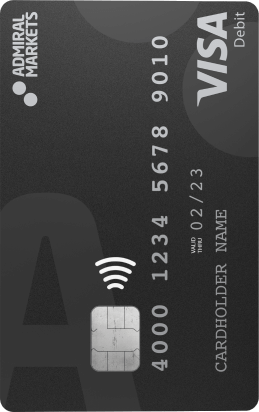 Log in to get your Card
Log in to your Trader's Room to open your Admiral Markets Card account today!
Simple
Instant access to your trading balance. Available for clients with approved application.
Secure
Manage and use your card anywhere. Compatible with Samsung Pay and Google Pay.
Transparent
Transfer funds at interbank exchange rates, zero commissions, no service charge* and no hidden costs.
GET STARTED
Frequently asked questions
What is the Admiral Markets Card?
The Admiral Markets Card is available as either a virtual card or a Visa debit card. With them, you can make purchases, both online or in physical stores, using the funds you have transferred into your card's wallet within your Trader's Room account.
Your card can be loaded up to a balance of 12.000 euro, and can be re-loaded any time when required.
How do I get my Admiral Markets Card?
Admiral Markets virtual cards are available to Admiral Markets Cyprus Ltd private entity clients who are at least 18 years old, with an EEA residentship. Once your account is live, you see the "Cards" section in the dashboard where you can request your virtual card.
Where and how can I use my Admiral Markets Card?
Your Admiral Markets card can be used worldwide, wherever you see a Visa acceptance mark. This includes shops, restaurants, online shopping, and much, much more.
How many cards can I request?
You can request one virtual card. You can close the card at any time, and later you are free to request a new one.
When can I start using my virtual Admiral Markets Card?
Creating your virtual card takes seconds, and is available immediately after creation. You can start using your virtual card once created, and funds have been transferred into your card.
What happens if I no longer want to use my Admiral Markets virtual Card?
You can close the card in your Trader's Room. If the card has balance above zero, please transfer the full balance on the card into a trading account or wallet before closing the card.
Do I need to inform you of any changes to my personal details, such as my address?
Yes, please let us know as soon as possible if you wish to change your first or last name, mobile number, or address by contacting our Customer service, at:
Telephone: +442035041364 (standard geographic rates apply);
Email: global@admiralmarkets.com
How can I check my balance?
You can check your card's balance in your Trader's Room.
How do I add money to my account?
You can top up your card in your Trader's Room using external payment systems (the same systems you use for deposits to your Wallet or Trading Account). You can then transfer funds from your Wallet or Trading Account to Admiral Markets card.
Can I add my card to Google Pay?
You can absolutely add the card to your Google Pay app. If the Google Pay app is not available in your region or country, please go to Settings -> Google -> Account services -> Google Pay -> add a payment method and click "Add a new card" within your phone. You can find more information at Google Pay Help.
Is Samsung Pay available for my card?
Yes, your card is compatible with Samsung Pay on Samsung phones and devices. To find more information about compatible devices, regions, and any other information, please visit the Samsung Pay page.
How may I receive a balance and transaction statement?
You can generate a statement in your Trader's Room ("Cards" menu) for your selected date range. Select "Range" and filter by "Time" and your desired set start and end dates. The statement will be generated as a PDF file.
How do I get help with my Admiral Markets Card?
You can contact us by:
Telephone: +442035041364 (standard geographic rates apply);
Email: global@admiralmarkets.com;
Online: Log in to your Admiral Markets account at https://admiralmarkets.com/about-us/contact-us?regulator=cysec directly to Contact Us to send us a secure message;
Post: Dramas 2, 1st floor, 1077 Nicosia, Cyprus
How can I file a payment dispute?
You can make a dispute a paymentin your Trader's Room. Select the transaction in Trader's Room ("Cards" menu), click "Dispute" and add all relevant information.
Why Trade with Admiral Markets
Regulated Broker
Investment firms operating under the Admiral Markets trademark are well-established firms, regulated by leading global authorities.
Financial Security
We offer Negative Balance Protection and Volatility Protection, to protect you in volatile markets.
Best Order Execution
90% of trades are executed within 150 milliseconds.
Free Trading Education
Build your trading skills with hundreds of free articles, live webinars and more!
Competitive Minimum Deposits
Start trading CFDs today with deposits from just €100.
Local Presence
We have offices across the globe so wherever you are, we're here for you!
GET STARTED