The US dollar appreciated after the Fed meeting
June 21, 2021 11:00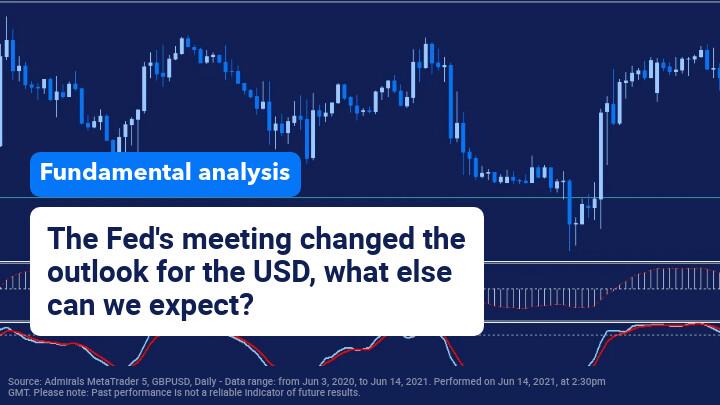 Last week was marked by high volatility with the U.S. dollar rising significantly to more than 2-month highs in a matter of just few days. This volatility was mainly driven by the rather unexpected comments from the U.S. Federal Reserve on future interest rate rises, which forced stock markets to adjust temporarily and the U.S. dollar to strengthen against other currencies, with the bank's tone being tighter than expected.
USD
U.S. economic indicators remained positive and showed continued growth. Retail sales in May were 28.1% higher than at the same time a year ago. Industrial production was 16.4% higher than a year ago, while the industrial price output index grew by 6.6% year on year, suggesting continued upward pressure on prices, especially for commodities. The number of new jobless claims rose from 0.38 to 0.41 million a week.
The U.S. Federal Reserve held a meeting, but did not make any important decisions - the interest rate and bond repurchase program remained unchanged. Investors were somewhat frightened by the interest rate forecast provided by the bank, which shows 2 raises in 2023, which led to a correction in the stock markets. But bank chief Jerome Powell said at a news conference that the dot-plot is not an accurate enough tool to assess future interest rates, subtly easing market tensions and returning positive sentiment to the stock market.
The scale of the pandemic continued to slow as the global average for new cases per week fell from 386 to 345 thousand per day. The situation in the U.S. continued to improve after a short break and the weekly average of new cases fell from 15 to 12.6 thousand. The number of vaccines injected in the country rose from 307 to 316 million, a change of 9 million, a slight increase from the previous week. Overall, the number of people vaccinated with at least one dose in the U.S. rose from 52.0% to 53.1% of the population and increased by 1.1% over the week. In Lithuania, this indicator rose from 41.6% to 43.2% and the vaccination rate continued to slow down.
Euro
The main currency pair EUR/USD mainly reflected the strong prevailing sentiment towards the appreciation of the U.S. dollar and the pair adjusted to as high as 1.185 points. Among the economic data in Europe was industrial production in April, which was 39.3% higher than a year ago. Actual annual inflation in May was 2.5% in Germany and 2.0% in Europe. The industrial price index in Germany in May showed a rise of as much as 7.2%, which manufacturing companies are likely to pass on to consumers, and this will be reflected in headline price inflation in the coming months. The EUR/USD pair closed the week with a drop of -2.0%.
JPY
The most important Asian pair, USD/JPY, rose moderately above 110.0-points and shortly reached 110.8 on Thursday. Economic data included industrial production in April, which rose 15.8% year-on-year, as well as annual export growth of as much as 49.6%, mainly due to a low comparative base a year ago, when indicators were severely affected by the pandemic. Annual inflation was -0.1% in May. the country's central b+ank did not take important decisions or change its policy. USD/JPY ended the week appreciating 0.5%.
GBP
The British pound depreciated against the U.S. dollar and the pair adjusted to the 1,380-point level. Economic data included strong labor market data, with the number of unemployed falling by -92 thousand a month and the unemployment rate falling by 4.7%. The average wage was 5.6% higher than a year ago. Inflation in England stood at 2.1%, while retail sales were 24.6% higher than a year ago. GBP/USD ended the week with a depreciation of -2.1%.
Economic Events
This week will start fairly quietly and important data is not scheduled for Monday. U.S. secondary real estate market activity indicators will be released on Tuesday, and Federal Reserve's chairman Jerome Powell will discuss the economic situation in the country in Washington. Preliminary PMI indices will be released on Wednesday. A meeting of the Bank of England will take place on Thursday and the U.S. industrial orders data will be announced. On Friday, the focus will be on a shift in the U.S. consumer spending index, which will provide a better outlook for inflation in the country.
According to Admiral Markets market sentiment data, 86% of investors have long positions in the EUR/USD pair (up 15 percentage points from last week). In the main Asian pair USD/JPY, 45% of investors have long positions (up 6 percentage points). In the GBP/USD pair, 82% of participants expect a rise (up 18 percentage points). Such market data is interpreted as contraindicative, so EUR/USD and GBP/USD are expected to depreciate and USD/JPY to appreciate. The analysis of positioning data needs to be combined with fundamental projections and technical analysis.
Sources: bloomberg.com, reuters.com, Admiral Markets MT4 Supreme Edition, investing.com

INFORMATION ABOUT ANALYTICAL MATERIALS:
The given data provides additional information regarding all analysis, estimates, prognosis, forecasts, market reviews, weekly outlooks or other similar assessments or information (hereinafter "Analysis") published on the websites of Admiral Markets investment firms operating under the Admiral Markets trademark (hereinafter "Admiral Markets") Before making any investment decisions please pay close attention to the following:
This is a marketing communication. The content is published for informative purposes only and is in no way to be construed as investment advice or recommendation. It has not been prepared in accordance with legal requirements designed to promote the independence of investment research, and that it is not subject to any prohibition on dealing ahead of the dissemination of investment research.
Any investment decision is made by each client alone whereas Admiral Markets shall not be responsible for any loss or damage arising from any such decision, whether or not based on the content.
With view to protecting the interests of our clients and the objectivity of the Analysis, Admiral Markets has established relevant internal procedures for prevention and management of conflicts of interest.
The Analysis is prepared by an independent analyst, Roberto Rojas (analyst), (hereinafter "Author") based on their personal estimations.
Whilst every reasonable effort is taken to ensure that all sources of the content are reliable and that all information is presented, as much as possible, in an understandable, timely, precise and complete manner, Admiral Markets does not guarantee the accuracy or completeness of any information contained within the Analysis.
Any kind of past or modeled performance of financial instruments indicated within the content should not be construed as an express or implied promise, guarantee or implication by Admiral Markets for any future performance. The value of the financial instrument may both increase and decrease and the preservation of the asset value is not guaranteed.
Leveraged products (including contracts for difference) are speculative in nature and may result in losses or profit. Before you start trading, please ensure that you fully understand the risks involved.