Autochartist is the world`s most advanced tool for the automatic identification of chart patterns and Fibonacci patterns. The technology allows customers to monitor thousands of financial instruments 24 hours per day automatically uncovering trading opportunities as they occur. With pattern recognition engines continuously scanning financial markets such as Forex, Equities, Indices, and Commodity markets, traders are notified within minutes of pattern formations. They also offer PowerStats as a feature that gives Forex traders important statistical information about the instruments they trade. It helps when setting stop-loss and take-profit levels, and provides a better assessment of risk and volatility.
A Review of the Key Features of Autochartist
Here's an introduction to some of the key benefits of the Autochartist pattern recognition software. Ifthese features sound interesting to you, consider taking advantage of our 30 day Autochartist free trial, accessible direct from your Admiral Market's Trader`s Room.
MetaTrader Plugin:
All features of Autochartist can now be delivered to your MT4 or MT5 application via a custom plug-in that takes 30 seconds to install. This includes Chart patterns, Fibonacci patterns and PowerStats. Traders can now also easily launch the web-based version of Autochartist from within MetaTrader without needing to sign on again. Potential broker partners are no longer required to allocate any technical resources to have Autochartist as an offering to their account holders. This way of delivering Autochartist signals is particularly appealing to traders that regularly use MetaTrader and to whom Autochartist plays an important role in trade execution.

Chart Patterns:
As previously mentioned, this chart pattern recognition software not only covers the Forex market, it also analyses the equities, futures, CFD and spread betting markets, automatically identifying technical chart pattern formations such as triangles, wedges, tops and bottoms. Users are notified by audio and visual alerts when emerging and completed patterns are identified. The pre-drawn charts are easily understood as support and resistance levels are clearly illustrated. If you're looking for the best chart pattern recognition software, then Autochartist is well worth a look.It's a really versatile tool, allowing newer traders to incorporate technical analysis into their trading plans, while still offering seasoned traders the powerful scanning functionality which saves them time and highlights trade opportunities that may otherwise be missed.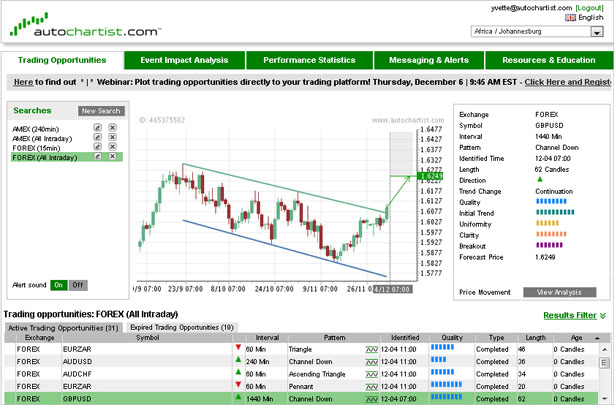 Fibonacci Patterns:
Autochartist is an indicator that automatically identifies Fibonacci Patterns and visually illustrates the levels at which support or resistance is expected according to the theory of the Golden Ratio. Such levels can play an instrumental role in setting stop-loss levels and determining trading objectives. From straight forward extensions, retracements, and ABCD patterns, to more sophisticated setups like Gartley and Butterfly formations, Autochartist also has the ability to identify patterns that are in the process of forming. This highlights to Fibonacci traders where they need to focus their attention for the next high-potential trade opportunities.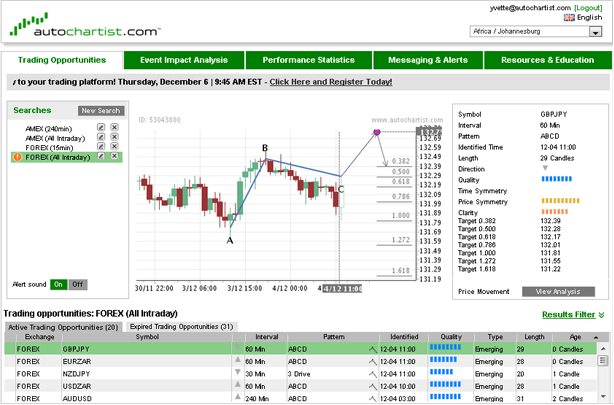 Key Levels:
Autochartist`s Key Levels is the technical analysis of horizontal support and resistance. Traders are notified when price approaches or breaks through important key levels that have been automatically identified by Autochartist.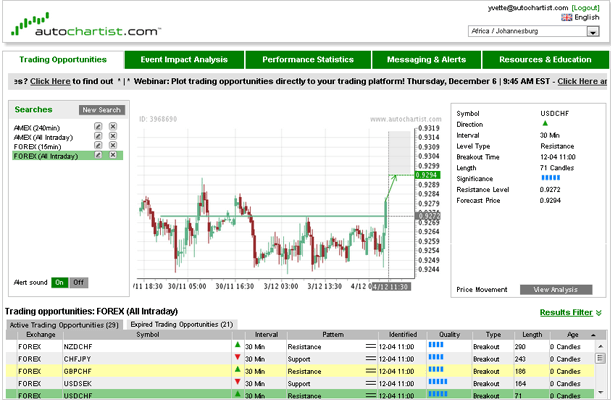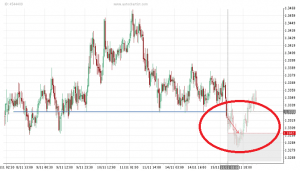 Powerstats:
The PowerStats toolkit makes Autochartist a great option for traders specifically looking for Forex chart pattern recognition software, as it provides traders with key insights into the relative movements of forex instruments. This is very helpful when formulating new trading plans, or refining and re-evaluating existing strategies.
For example, PowerStats offers:
Average pip movement in specific time frames
Likelihood for upside or downside momentum (based on history)
Maximum expected price movements (statistical highs and lows) across various time frames
Expected price movements over weekday and hourly time frames
As an important Autochartist feature, alongside chart and Fibonacci pattern recognition, PowerStats helps traders to set stop loss and take profit levels, as well as helping them figure out risk and choosing the appropriate instruments to trade.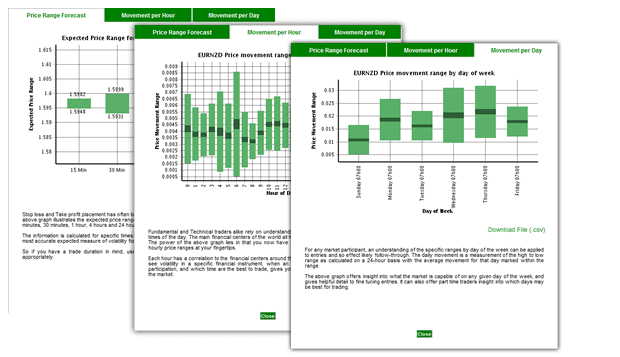 Market Reports:
Autochartist Market Reports are automatically generated using the trusted Autochartist Pattern Recognition Engines. Comparable in every respect to technical analysis reports delivered by human analysts (except that they contain no bias), they are delivered at an absolute fraction of the cost.
This allows brokers to provide timely reports (with the option of white-labeling) either via email or web, in a variety of languages. The markets and instruments covered in the reports can be predetermined, to make the content relevant to a particular audience.
Money managers also benefit from the chart pattern recognition tool's Market Reports by demonstrating to their customers that they are maintaining focus on what is happening in the markets throughout the trading day.
In summary:
Delivered at predetermined times and in regular intervals
Customisable for certain markets/instruments
Wide variety of languages
Can be white-labelled
Delivery either via web or email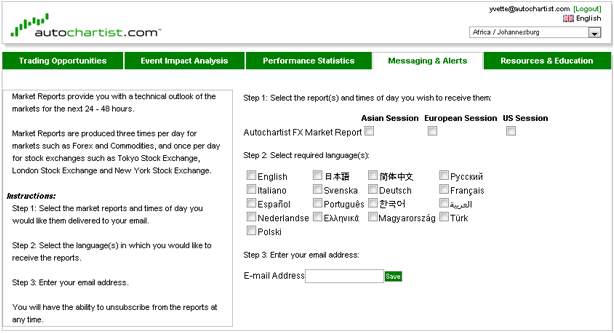 Event Impact Analysis:
Autochartist has partnered with Econoday to offer clients a new and innovative tool - Event Impact Analysis. The Event Impact Analysis tool is a simple to read visual report that displays the impact that market moving events have had on Forex markets. This tool gives traders a concise visual account of the actual impact previous economic events have had on particular currency pairs. The Event Impact Analysis tool is now available via the Econoday website. The benefit of being able to filter information by country, event and currency pair equips the trader to trade with better certainty around economic events.